By Tracie Tuttle–Happy trees, little clouds, no mistakes, Bob Ross has certainly made a lasting impression on American pop culture. From Funko Pop! figures and t-shirts to a Chia Pet in his likeness, the American painter has become a pop culture icon that many people know and love.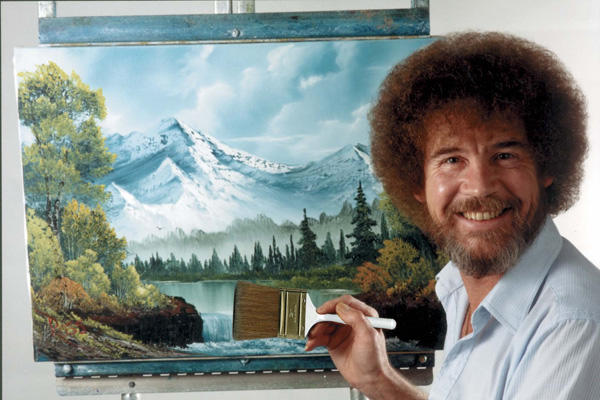 Ross' TV show, "The Joy of Painting" premiered in 1983, where he would encourage his viewers to paint along with him as he taught them how to paint like a pro. He coined many phrases on the show including his iconic "happy little clouds" and "we don't make mistakes, just happy little accidents." The show also featured many of Ross' animal friends, including Peapod, a squirrel the artist would occasionally keep in his shirt pocket while painting. The show continued to inspire audiences until 1994, one year before Ross passed away from lymphoma.
Since then, Ross has continued influencing several generations of people, including Morningside alumni, Emily Knapp.
"I love Bob Ross because he truly makes you feel like you can paint, not to worry if you make 'mistakes,' and that practice makes perfect," said Knapp. She enjoys watching Ross' show because of his positive attitude, relaxing voice, and painting techniques.
Terri McGaffin, chair of the art department, has another reason why Bob Ross has been so influential. She said, "At the time the TV show appeared, I think the public was skeptical about art, they were surrounded by elite art from the neo-expressionist period among others. Bob Ross made art accessible and allowed people to say "It's fun and I can do it too."
If you want to be inspired by Bob Ross too, you can find episodes from his TV show on both Netflix and Hulu.