By Tracie Tuttle–Known for its stress–relieving qualities, paint by number has made a lasting impression over the years.
Paint by number kits initially became popular in the 1950s as a way for people to become involved in art. Creator Dan Robbins, who died early last month, was inspired to create these kits so everyone would be able to experience the feeling of creating something, even if they weren't a classically trained artist.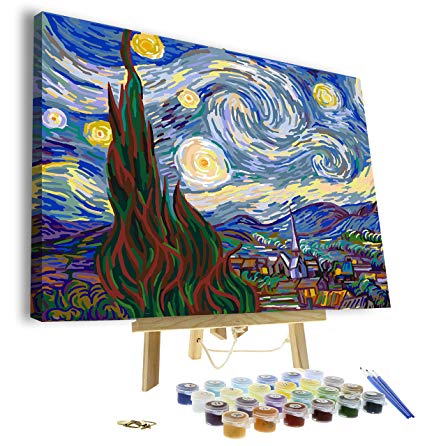 There are many skills to be learned from paint by numbers, like how to properly use tints and shades to create the perfect shadow effect among other things.
Terri McGaffin, chair of the Morningside Art Department and artist, recalled using paint by numbers as a child. She learned "about the value and intensity of the color and how to use it." She went on to say that "paint by number kits taught me basic color theory and how to mix just the right color."
Another benefit of paint by numbers is that they're a great stress reliever.
Sarah Schwartz, a senior non-profit management major, said "paint by numbers have always been a stress reliever for me." She described the process of making one of these artworks as "calming," especially when she is stressed.
Schwartz says that paint by number kits also helped her learn to follow instructions and to pay attention to detail.
Originally these kits came with a piece of canvas with the tell-tale outlines, numbers sketched on the surface, brushes, and small, individually filled gelatin capsules filled with oil paint. They soon mechanized the process, reducing production time and increasing output.
Today these kits can still be found, as well as several variations like adult coloring books.
If you would like to learn more about the life and legacy of Dan Robbins, check out this article by the New York Times.