This was not my first time going to Rebo's I had been there a couple of times before. As always the wait staff was very polite and professional. The tables that were set aside for us were pretty small and there was not much room to move once everyone had sat down. But the same amount of space really was not their fault, they fill up fast for lunch and there was also another group as well.
The waitress came up and asked us for our drink orders and I of course got the iced tea. After the drinks were to us the waitress answered any questions that people had and took the appetizer orders. For a group as large as ours I was happily surprised that the appetizers came quickly. The waitress took our orders and got us refills on our drinks.
For lunch I decided to try something other than a sandwich this time around so I went with the Rebo's Chimichanga ($9.95). It was quite large and had good flavor. It came with Mexican fried rice and refried beans, both tasted very good and paired with the chimichanga very well.
The plate presentation was a little sloppy to say the least. I'm not sure if they wanted it to look that way or not but it's not always about the looks. The chimichanga was placed in 1/3 of the plate, the beans had a third of the plate, and the rice had the last third taken up. Everything being smothered in cheese did not help the plate look any better, if anything it just made it more messy looking. The sour cream on top of the chimichanga could have been done better, it looked as if they had just thrown it on there without a care.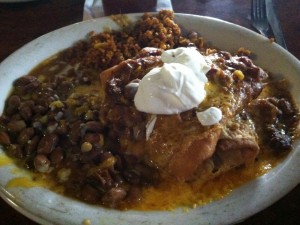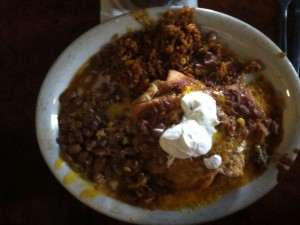 Even though the plate did not look that pretty the tasted wonderful. The beans were very tasty. I do not usually like rice but I did like their's very much, the seasoning made it more enjoyable. And even though cheese was every where it made it much much better. The chimichanga was fried excellently and the pork tasted very good.
For desert I ordered the Seven Layer Cheesecake. I cannot tell you what the seven layers where but I can tell you that it was amazing! It is served cold and some people seemed to be having a tough time getting their forks through it. The desert is probably my favorite thing at Rebo's. 
The plate looked very nice. The piece of cheesecake was on top of a carmel sauce and chocolate sauce, powdered sugar, and whole almonds.
I love going to Rebo's and I know that I will go back. The atmosphere is great and the food is reasonably priced for what you get. So I would say to come hungry otherwise you will not be able to finish your meal, let alone get desert. So I would say that if you are in Sioux City Rebo's is a place that you must stop at while you are here.