Today we ate at Indigo Pallet. I'll just start of by saying I was very impressed. I loved the atmosphere; I cant remember what exactly they said the type of place was called but it had painting everywhere on the walls with a jazz and coffee shop feel to it. All of the paintings on the wall were for sale. I didn't buy one but that's just because I don't understand the concept of how some abstract art with three lines can be worth $500.  I did start off my lunch with the "Dandy Candy" to drink. This was a coffee drink that had almond roca, salted caramel, and dark chocolate in it; you can order it iced or hot and I ordered iced.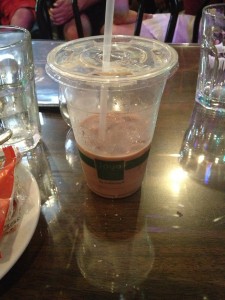 I thought that this drink was very good, I love coffee flavored drinks but I did enjoy the mixture of different flavors. The next thing I ordered was a cup of soup, which I picked chili. Now I forgot to take a picture of this chili, but lets just say this might have been one of the best bowls of chili I have ever had, it had brisket in it instead of beef. Amazing! For my actual meal I ordered the "indigo" dip. This consisted of smoked brisket soaked in an apple aus jus and topped with shredded cheddar cheese served on a hoagie bun with more apple aus jus on the side. The menu also but under the label, "actually causes mmm's and ahhh's!" I may not have mmm and ahhh'd out loud, but I definitely did in my head. It was very delicious. It had just the right amount of meat inside the bun, and I did appreciate how the temperature allowed sandwich to just melt in my mouth with each bite. The cheese was perfectly melted and especially dipped in the aus jus sauce just made all of the flavors blend and moist in my mouth. Lets just say I would recommend this to anyone and everyone. I did remember to follow my theme and only eat half of my meal, well sandwich part anyway. Not to mention I did just finish eating my leftovers for supper tonight, still good as new. For my side I ordered beer battered yam bites, I was not sure what these were exactly, I never really knew what yams were and they sounded different. Don't worry though they were just sweet potatoes and they tasted great. They were in more of chunks than I was used too, but I did really like how the breading tasted. I am one who likes crunchy taste in like fries and that sort of thing so these were right up my ally.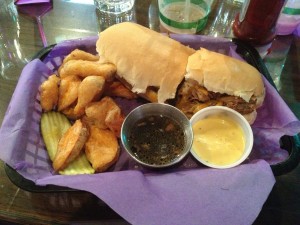 Of course I had to order dessert. That's just a necessity anymore these days. I ordered the rich double chocolate brownie. This was made with Ghirardelli chocolate and cream cheese frosting; warmed, and served with ice cream. Now that I am reading the label I do not recall this brownie having frosting on it, and the picture doesn't really show it either. It must just be a super thin layer. But I will mention that I love when I have a warmed brownie and then cold ice cream with it so that the brownie begins to melt the ice cream (but only once it's in front of me), and then it makes the brownie even moister. I guess this lunch much made me realize how I like to blend foods more than I realized.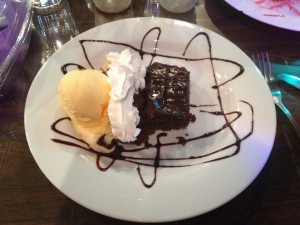 Overall I do recommend this place to go eat, I loved the atmosphere. I feel like I could go there to get away even by myself, or just for a study break. To top off the meal once I was finished with my food and was ready to take home my leftovers they boxed it up for me they and made it look very pretty. This just made me leave in a good mood, even though I was stuffed full.