These last two days of class we ate at nice restaurants. Bev's on the River was the first one and it was a very classy place. Unfortunately I came a little late and didn't get a seat facing the big window that looked over the river, but that is ok it was still a pretty neat. I knew we had some money to spend at the end so of course I ordered a three-course meal, why not! For my appetizer I ordered the Creamed Spinach and Artichoke Dip that was served with sliced French baguette. Of course I've had artichoke dip before and loved it, but never on sliced French baguette, so that considers to be something new, right? Lets just say it was amazing! The bread was warm with melted butter and when I put the artichoke dip on top it just put me in a good mood. Food sometimes can actually make my whole day better. All of these three weeks of class I was so excited and in a very good mood just because of this class, I always looked forward to it.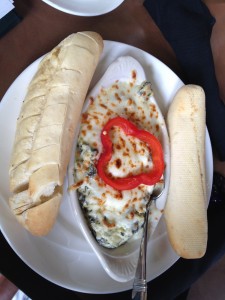 For my main course I ordered the Island Chicken. This was Teriyaki marinated chicken breast charbroiled and topped with a grilled pineapple ring and served on a toasted bun. For my side I passed up the soup and the steak fries and got the cup of fruit. I knew that was a healthy substitution I needed to make for once. I also thought the pineapple on the chicken just made it sound healthier also; my mind tries to make things sound better than they probably are. I do love pineapple very much so I had to. This I was very impressed with this meal though, the chicken was very well marinated and the teriyaki sauce did carry throughout the sandwich with the pineapple juice squeezing into my mouth also, mmm!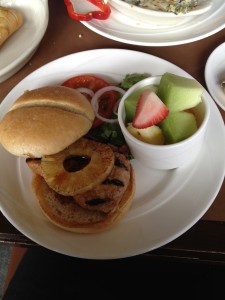 Unfortunately they didn't serve all of their coffee and espresso hot drinks during lunch, so I stuck with water to order as my drink. They did come in pretty fancy cups I will admit. I'm not one to like a lemon with my water, but with the fancy blue water glasses they gave us I left it on there because it looked cool.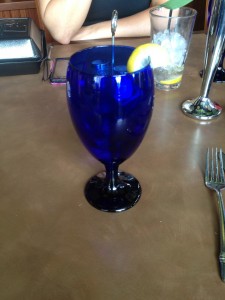 Now for the best part of my meal, as always, the dessert. I ordered Cinnamon Bread Pudding with Bourbon Sauce. I had to pre order this along with my meal because it takes twenty minutes to cook. Now when I got this meal I thought I was at some fine dinging restaurant with the thing the bourbon sauce was in. I have no idea what to call it, but it made me feel cool having it. This cinnamon bread pudding was definitely the best part of my meal. I feel as though no matter how good the main course is, the dessert always wins. I guess that's just how my taste buds work. I will admit it was a little too hot when I first received it, but I'd rather have it that way than too cold. There was definitely enough to share with someone, but I ate it all myself. It was amazing! I have had bread pudding one other time a very long time ago and don't really remember it. The sauce was pretty think and dipping, or pouring, the sauce on the bread just made it all better. It moistened it up a lot and the cinnamon bread just filled me up. I left feeling very very full. This place will be on my list to come back too, maybe on a fancy anniversary date, or suggesting it to others.