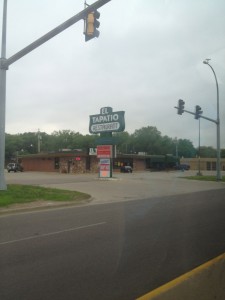 El Tapatio is the Mexican restaurant we ate at today. Once again I got caught up in ordering my food because I was so hungry, that I forgot to take a picture of the menu. There were a lot of weird names that I really didn't know what to order. One of my favorite things about going to eat at Mexican restaurants is the free chips and salsa at the beginning. They were so good, the chips were lightly salted and the dip had a little kick to give it flavor. I don't think you could ever go wrong with this option. The customers stay happy while they wait for their food and are less grumpy if the service is slow. Don't worry the service came out in a good amount of time, not super fast but not slow either for accommodating eleven people. I also ordered pineapple juice for my drink. This I have had before and I absolutely love anything to do with pineapple. I will admit that this was the best tasting pineapple juice I have ever had. There was no pulp, but lots of flavor; it wasn't too strong that would cause it to be too sweet or sour.
I was trying to pick out something I haven't had before which was easy and hard at the same time. Since I was having troubles understanding what some things were, I also was trying to find a combination that I would enjoy but yet haven't had. Therefore avoiding the seafood I went with a chalupa, bean burrito, and a flauta. I know I have had a burrito before, but the other two I have not and it was a combination meal. I thought the meal was pretty good. I mean it didn't really stand out to me over other Mexican restaurants I have had before but I do love Mexican food so I did enjoy it. My bean burrito is what I liked the best. Although it wasn't bean it was all beef, which was ok with me. Since this one I have had before it met all my expectations with the size, temperature, and quality of beef. The flauta was pretty good; I just was confused on how to eat it at first because it was like a hard shell taco wrapped up in a roll. The chicken inside was delicious, I'm not sure what sauce they used with it but it tasted good. The chicken wasn't dry and that's all that was inside of the flauta so it was packed of flavorful chicken. I was a little disappointed with the chalupa, I'm not sure if that's how chaulpas normally are suppose to be made because the only other way I've heard of a chaulpa was Taco Bell commercials. I know I shouldn't compare the two places because El Tapatio is way better quality food and more authentic. I can't really complain about what was in the chalupa because I don't know what is supposed to be in it. All that it had in it that I noticed was refried beans, lettuce, guacamole, tomatoes, and sour cream on a deep-fried flour tortilla. To me this combination just wasn't happening for me, I don't think I even finished it all. There was an odd balance of the food for my liking.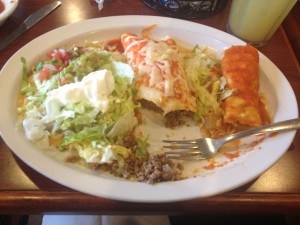 I could have saved half of my meal to go along with my theme, but I chose not to because I didn't think leftovers would be as good. I figured the tortilla would get soggy and not be very good. So I decided to go against my will and eat the whole thing, which also wasn't a problem. I would definitely recommend this place to others, the price is very reasonable and the service is good. I'm sure I'll enjoy it even more once I turn 21 because they have an excellent margarita selection.