I've been to Tokyo Japanese Steakhouse and Sushi Bar one other time when it first opened up here in Sioux City. I really enjoyed it then, but I also thought it was expensive. Last time I spit an order with a friend, which that is the great thing about this may term is that we don't have to worry about ordering expensive things and are able to branch out and not feel like I am wasting money if I don't eat it all.
As an appetizer Amy and I split the Yakitori, which is teriyaki chicken with green onion on a skewer. This exceeded my expectations; it was seasoned just right with teriyaki sauce and cooked just how I liked it. It was presented very nicely on the plate as well. I am not a green onion fan either but it was very good on this skewer.
We also ordered the Ramune Japanese soda pop. I'm always looking for something different to try so this was very unique from the bottle it came in to the way we had to open it. The drink itself resembled other strawberry pops I've had in the past, but I was glad I tried it. Now I am not one to order let alone even be around any type of seafood. I absolutely hate all types. I know the actual taste of them may not be bad because I've tried some before, but it is the idea and smell that push me away. The whole point of this may term is to "break out of my comfort zone" as I previously stated on the news, so I guess that is what I had to do. Fish is not in my comfort zone what so ever. But, I did it. I split up my lunch and ordered the Hibachi Mahi Mahi and the Hibachi Chicken. I found some courage and I ordered fish. Not only did I admit that it wasn't that bad, I also tried other people's swordfish, calamari, sushi, and boiled and seasoned soybeans called Edamame. This is a HUGE step for me. People always question the point of this class; well for me this is why. I still tasted the fishiness on the Mahi Mahi, but it was bearable. It made me realize that it's not as bad as I always made it seem. I'm not saying I will become a seafood lover now, but it definitely broadened my taste buds a little bit to be more willing to try more types. Maybe this opened the door for me.
I also tried Japanese Ice Cream Red Bean flavored. I already tried fried ice cream so I know I couldn't allow myself to order it again, which is a bummer because it is was amazing. I figured the Red Bean would have more flavor to it then it actually did, but it was still delicious. I don't think there is a bad ice cream out there so it is hard for me to critique dessert. To me it tasted like vanilla ice cream with a little different kick to it, and also random chunks of mystery, which were the red beans.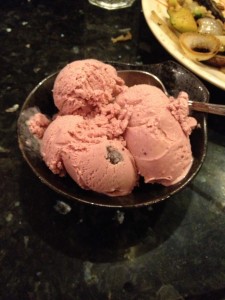 I was very impressed with the overall performance of the meal. I love hibachi grills, they are very entertaining and not only do you have something to watch the whole time, you slowly get your food as it is being made. This way you never wonder how much longer till your food will be brought out, and are left with nothing besides a growling stomach. This might have the other restaurants beat that we have tried so far. I will definitely recommend this to my friends, and I will be returning in the future.