I had never been to, or even heard of Red Bones Café until the class went to the restaurant today.  It is a tiny restaurant on the corner of a block and very easy to miss.  By the look of the exterior and interior, I thought it was either an Asian or Mexican restaurant.  They have few decorations on the yellow and red painted walls.  Once I looked at the menu I realized that it is an American style place.  They serve burgers, fries, pork chops, and more.  Their selection was not a large as The House of Q, but still decent.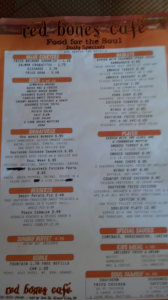 Since I had never been there, I thought I could order anything on the menu because it would still be trying something new.  I decided on ordering the smoked turkey face side up on Texas toast with sweet potatoes, a side salad, and a drink.  My meal also came with a piece of cornbread.  My side salad with raspberry vinaigrette came first.  It was not bad, just a typically plain salad with dressing.  Then the main course arrived.  The turkey was sliced very thin and placed on the Texas toast with a small cup of mashed sweet potatoes and a piece of cornbread.  There was nothing fancy about the arrangement of the food on the plate.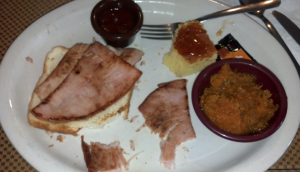 The smoked turkey was somewhat on the dry side so I had to use barbeque sauce, but it still tasted good.  It had the smokey flavor and smell of smoked turkey.  The mashed sweet potatoes had a strange spice added to them.  There was definitely sugar mixed in too.  I had never eaten sweet potatoes like that before.  I can't see myself ordering them again, but it was something fun to try.  The cornbread was probably my favorite.  I added some smooth golden honey to the top and dug in.  The bread was very moist.  The whole meal was $8.95.  The price of the meal was average and reasonable.  The servings were not that large, so I had no leftovers.  Overall my meal was great, but interesting at the same time.
Red Bones Café was not my favorite place.  This would not be the first place I would recommend people to go and eat.  If the people asking me where to eat in Sioux City are into that kind of styled restaurant, I would definitely put in a good word for the restaurant.  The staff was very friendly and helpful.  They were very glad our class came in and ate.  The news was there to interview some of my classmates.  I think it being on the news tonight will help advertise Red Bones Café.  Some of my other classmates enjoyed their food as well.  I enjoyed my experience at Red Bones Café, but cannot see myself going there again, at least soon.  I am glad I went to a restaurant in Sioux City that I had never heard about even though I am from here.  It makes me wonder what other strange restaurants Sioux City has that I do not know of.