Today for class we went to Da Kao.  It is a small corner restaurant close to downtown Sioux City.  I have only ordered food from Da Kao a few times.  When I did, I always ordered the eggplant, which I believe is one of their Chinese entrees.  Today I wanted to make sure I ordered a Vietnamese dish since it is a Vietnamese restaurant.
From the outside, the restaurant looks extremely small but once inside, you notice it can fit a large amount of people.  They had tables set up to fit our entire class.  It seemed like it was a popular restaurant because most of the tables were full.  There were pictures and morals on the wall, pleasantly decorated.  The atmosphere of the restaurant was relaxing.  The staff was welcoming and quickly brought us drinks and prepared our food.  The menu had a huge variety to choose from.  As I mentioned earlier, they have a Vietnamese selection and a Chinese selection.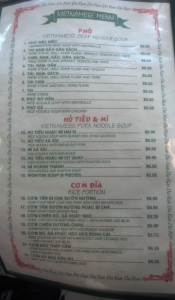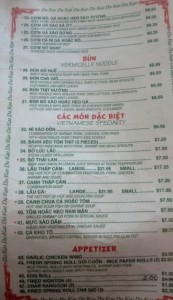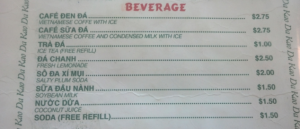 I ended up ordering an eggroll, co'm xao thap cam, and water.  The English translation of my meal was pork chicken and shrimp with stir-fried vegetables on steamed rice.  The eggroll came out first, which was $1.00.  It tasted freshly made, but it seemed like it was a vegetable eggroll.  I could not taste any meat in it.  The sweet and sour sauce was actually pretty good.  I am not usually a fan of that sauce, but Da Kao's was decent.  My main entrée came with a large portion of food, especially for only $6.25.  My plate was heaping with rice, vegetables, and meat.  The vegetables added a lot of color to my meal, which made it more appetizing.  I am not exactly sure what pork chicken is, so I was slightly scared to try it.  The pork chicken was kind of chewy.  On the other hand, the shrimp was delicious.  All the food had the typical hint of soy that most Asian dishes do.  The downfall of my meal dealt with how salty it was.  I do not like using that much salt, and I could tell there was a good amount in my meal.  Overall my meal was not too bad.  It was not my favorite place to eat, but I could possibly see myself going there again a couple more times throughout my life.  I do not want to say this was an awful restaurant; I just do not eat that much Chinese or Vietnamese food.  I would recommend this restaurant to others if they wanted to eat at an authentic Vietnamese restaurant.  I would tell them that the prices are reasonable for the about of food you get with your order.
One drink I wish I would have ordered was the coconut juice.  I enjoy coconut water, well a certain kind, and was wondering if their coconut juice was the same thing.  One of my classmates ordered iced coffee and I tried it.  It was delicious!  The iced coffee was probably my most favorite thing at Da Kao.  If someone is a coffee drinker, I would recommend ordering the iced coffee.