Today the whole class took a different approach.  We ate at two different restaurants and compared the two.  The two places we went were the Milwaukee Weiner House and Coney Island.  I had never been to Milwaukee Wiener House until today.  On the other hand, once when I was very little at a graduation party, I had a plain hot dog from a Coney Island caterer.  I do not remember how it tasted though.  My goal was to order the same style of hotdog at both restaurants in order to be able to compare accurately.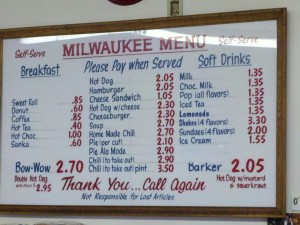 We went to Milwaukee Weiner House first.  It is a small old building in downtown Sioux City.  On the outside, the building looked much smaller than it really was.  Once inside, I was surprised with how much space there was for costumers to sit.  The staff happily and easily accommodated our large group of about 20 people.  The interior decorations made it feel like I stepped back in time.  They had pictures of when the restaurant first opened, which was 1918.  There were many other antique decorations as well.  The atmosphere was lively and inviting.  The workers quickly and efficiently prepared our food right as we ordered it.  I got a chili cheese hotdog and lemonade.  It was a typical hotdog with shredded cheese, chili, and mustard on the top.  The appearance of the dish was not messy looking.  They put just the right amount of condiments and toppings on, so they do not spill off.  I do not eat very many hotdogs, so I really did not have anything to compare it too.  To me, it tasted like a typical hotdog.  I did not think it was anything too special.  The price was $2.30 for the hotdog and $1.35 for the lemonade.  Overall, my meal was good and appealing.  If someone wanted a restaurant that was just it Sioux City, I would recommend Milwaukee Weiner.
Next we went to Coney Island, which is also located in downtown Sioux City.  It was a much smaller restaurant.  The place did not hold our class as easily as Milwaukee Weiner did.  Coney Island was also decorated with antiques and pictures from when it first opened.  Coney Island has been family owned in Sioux City since 1921.  The staff was very friendly, but moved a little slower than the previous restaurant.   Coney Island had less help though.  I ordered a Coney Dog without onions and a glass of water.  The appearance of the hotdog looked appetizing.  It was much like the one I ordered from Milwaukee Weiner.  I cannot remember the price of the coney dog.  Overall, this meal was also good.  I would recommend Coney Island to others as well.  Since both restaurants are pretty close to one another, I would suggest going to both and having them compare.  Below is just a picture of a coney dog.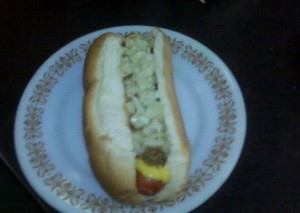 It is difficult for me to decide which restaurant was better.  Both had some qualities better than the other.  Both have been family owned for years.  The appearance of each meal at both restaurants was similar.  Each place had interior decorations that were old and unique.  They added character to each restaurant.  The two biggest differences of the two places were the price and the service. If I had to choose, I would say Milwaukee Weiner because it was cheaper and the restaurant accommodated a larger group easier and served us quicker.  I think people need to taste a hotdog from each place and compare themselves.