Posted in
Uncategorized
on May 30th, 2013 by Andrew
As we are winding down this tour of Sioux City we only had a couple more places to check out. It was fine dining time and we made our stop at Bevs On The River, and like the name it was located right off the Interstate on the Missouri River. This is one of the fancier restaurants in the Sioux City area and you could tell right when you walked in looking around at all the detail. They had a great view of the river and had nice outdoor seating. When it comes to fine dining it also brings higher priced items on the menu. They do have a variety of selections for their lunch specials at a low and decent rate. The service was a bit below average, but not much was messed up in our order and the food came out quick, she just took her time coming back to take our orders.
When it came time to order there were a lot of appealing options, but I settled with the lunch special of the day. I ordered the prime rib sandwich melt with a side of fries. But before the sandwich came out some others in the group ordered appetizers. There was quite the variety anywhere from onion rings, to wings and spinach dip. It was all very delicious and came out quickly. I was not sure I would still have room for my meal.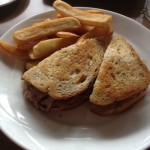 They took real pride in appearance, and the presentation was great. The sandwich had a pile of shaved prime rib topped with onions and cheese on toasted bread. The smell was great and you could hear the crunch of the bread on every bite. The meat was very tender and juicy, and the fries that came with it were crunchy and tasty. After I finished up the sandwich I did not think there would be room for dessert, but it was very hard to pass up a piece of cheesecake.
Once the cheesecake arrived I was able to force those bites down even though I was full, it was too good to pass up. Overall though this is one fine place to eat at and if you do happen to go, dressing up would not hurt you. But the food and atmosphere was top of the line for Sioux City, even though the service was not top notch it did not ruin our meal, because we were all enjoying a nice meal by the river.