For the end of our first week of class, the class ventured out to historic fourth street to a restaurant called Rebos. I myself have been to downtown fourth street occasionally but never had stepped foot into this restaurant. Rebos is a Caribbean wood fire grill that has a variety of food. The atmosphere is like no other once you walk in, you get the feeling like you are not in Sioux City anymore, but off somewhere else. The service was top notch and right there to meet your every need. They were very helpful with what to select on the menu, because some, including myself had never ate at a place like this.
As for when it was time to order, the waitress recommended that we try their different types of salsa. So we ordered that as an appetizer, there were three different types of homemade salsa that all had their own unique flavors. When it came time to finally order, an item on the menu that caught my eye was the steak stroganoff. It was one of the signature items on the menu.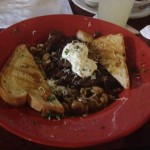 The presentation of the food was top notch, they really took pride in presentation.We did not even have to wait too long for our food either, even with that big of a group we had. The portion was plenty enough to feed me, the last few bites were a struggle as I was filling up fast. The steak on top was cooked perfectly that blended in well with the homemade sauce they poured over noodles. It would top right up there with some of the better stroganoff I have had in my life. Then after we had dessert, I went with the seven layer cheesecake.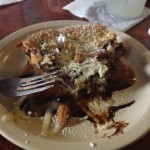 The cheesecake topped off this lunch to make it one to end the week on a high note. It was a nice blend of seven different ingredients that made for one great piece of cheesecake. While the meal itself may have been priced higher than the other places we have ate at, it is definitely worth the price if you are looking for some good fine dining. It is for sure one of the more unique restaurants located in Sioux City and who would have known it was located right down on historic fourth street. I will definetly be making my way back there sometime soon.