As we were continuing our streak this week by hitting every major country and their ethnic food, we made it all the way to Diamond Thai. Located off 7th and Hamilton, Diamond Thai is the most authentic Thai food you can find in Sioux City. From the outside you walk up thinking where in the World are we and look at this dump. But once inside you come to find a nice. cozy, and relaxing restaurant with many unique features around the place to make you feel as if you were actually in Thailand. Thailand has their own unique types of blends of food, most are known to be spicy. So if you are a fan of spicy food this will be right up your alley. They also do have milder dishes for those who do not enjoy the spicier foods. I can handle spicy foods so I was not too worried about ordering anything too hot.
The menu had many items on it which made it difficult for me, also being there for the first time, to make a decision on what to order. One of the main dishes to order there was their curry. They had a few different selections on types such as red, green, yellow. Not really sure what the differences were in any of them. I selected the first choice of curry, and ordered it with beef. You could also get the choices of chicken or pork.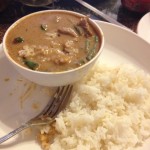 Once the meal arrived, I was presented with a bowl full of a soupy like substance with vegetables and beef mixed in, you also received that with a side of rice. I added the rice in to the bowl to get more texture, instead of eating straight soup. The first few bites were pretty good and not too spicy, but I found that the further I dug into it, the hotness caught up to me and was almost too much to handle. It was too good to just stop eating it, but it definitely caught up to me. The service was great like each place we have been, not sure if its because were the only ones in the restaurant that early but they are there to tend to your every need.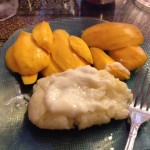 For desert, I ordered their house special of mangos with sticky rice. It was my first time eating mangos, and come to find out they are not that bad. The sticky rice was warm with a coconut topping which it all blended in for great flavor. Overall this was a great experience tasting something new, I would go back again and recommend it to anyone who is up for trying something new.