As we are coming to an end to week two we made our way downtown to an Italian restaurant that I'm sure not many of you know about. This authentic Italian restaurant is called Trattoria Fresco, which is located right off 5th and Jackson under a hotel. It is kind of hidden so may be hard to find unless you look hard for it. It is fairly new to the downtown area. I have ate at many great authentic Italian places in my life so I was really going to have to be wowed.
When first entering the restaurant you find nice soothing Italian music playing, and dining at its finest. You couldn't wear gym shorts and a cut off in this place, dressing nice is highly recommended. It was right up there for the fanciest restaurant we have ate at so far. When first looking at the menu, I myself could not pronounce half the words, luckily the descriptions were described in a way I could understand what I was ordering. The service was very polite and were very good. For an appetizer we ordered bruschetta.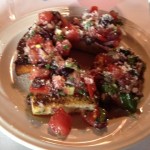 It was a very refreshing appetizer that was a piece of toasted bread, topped with tomatoes and other types of cheeses. It was very crunchy and not too filling, so I still had room for my main dish. For my main dish I ordered Tortellini with ham and peas mixed into it.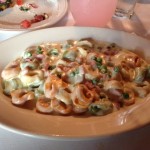 When it arrived at the table, I saw a very colorful dish with different colors of tortellini noodles that were filled with cheese. The smell was great and you could smell it coming from the kitchen. I have had some good tortellini in the past so it had a lot to live up to. And live up to it did, the taste was outstanding, it had great texture. Now if it was the best I have had, I wouldn't go that far, but it certainly was the best I have had in Sioux CIty. For desert I was able to put down a piece of their New York Cheesecake.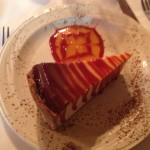 I was very impressed with the presentation of this, and the taste was pretty darn good as well. But they really took pride in how each meal was presented which I give them two thumbs up for because they are not many restaurants in Sioux City who go all out on presentation. In the end of it all I would have to say this is one of the better Italian places I have ate at in Sioux City, and could definitely make my way back down there.