For our third and final week, we made a stop to historic downtown fourth street to what I first thought was an art gallery with a coffee shop attached. So my first thought was why in the world did we got brought to an art gallery. What I found out was it was way more than an art gallery, they also have food to serve also. Their slogan is "An Art Gallery…And a Whole Lot More" which made a lot more sense once you walked in. It was a very unique atmosphere with art hanging all over the walls and had a cafe like feel to the whole place.
Once we sat down we were given our menus to look at, and had a variety of different choices for food. Our waitress showed up for drink orders, and right off the bat our whole table got the vibe that she just really didn't want to be there. She really didn't know the menu at all or what anything was we asked for. This came as a surprise to all of us, and everyone at the table agreed that we were not off to that great of a start if the service was not too friendly to start. I ordered a bowl of minestrone for starters, which was their soup of the day. As for my meal I ordered the cajun chicken sandwich.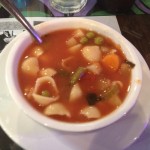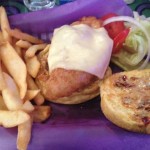 The soup came out right away and tasted delicious with a lot of flavor. The rest of the food took a little longer but was understandable with the big group we had. When my sandwich arrived the smell was amazing and I could tell it had some kick to it off the smell. It looked like a thick and juicy piece of chicken with light breading. The taste was very delightful, it had quite the kick to it which I enjoyed, but if you are not a fan of spicy I would stay away from it.
Overall, this unique restaurant that I had not heard of or known of really surprised me with their food and taste. Besides the service which was the only negative of the whole experience, this would be a great place to come back to for lunch or a nice evening meal.