We went south of the border for lunch today, as our class ventured on over to El Tapatio, right on Gordon Drive. El Tapatio is an authentic Mexican restaurant that has quite the variety of food and beverages. They are known for their famous margaritas and burritos. The service was decent but was not over the top though. The atmosphere was great and you knew you were in a Mexican restaurant with the music playing in the background. For starters they brought out chips and salsa to tie you over till you get your main dish. The only complaint I had about that was they never came back to offer to refill our chips, as we all saw other tables getting refills.
For my main dish I ordered the steak quesadilla with a side of beans and rice. When the food arrived it was quick and hot, like any other Mexican restaurant I have caught on to. They are all about getting you in and out quick. The smell of the quesadilla was fabulous and the taste was just as good as it smelled. The steak was very juicy and tender and had a good cheese blend mixed in. They did have daily specials on food and drinks. The Wednesday special was a burrito at a lower price, and they had 99 cent draws for beer. Which is pretty dang cheap for beer at a restaurant.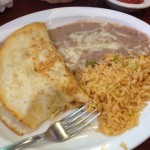 Overall this was a surprise to me for Mexican food, I have been driving by this place for a while now wondering if its worth a darn to go in and eat. For anyone who has the same curiosity as I did you will be pleasantly surprised to find it is some really good food.