For our lunch Tuesday we made our way all the way to Tokyo, Japan. Well not actual Japan but close enough, we ventured to Tokyo Japanese Steakhouse which is located just off Southern Hills Drive in Sioux City. Walking into the restaurant you felt like you were away from Iowa and off in Japan, it was a great environment in there. We got there right when it opened so the service was top notch and they were right there for our every need. You also got a choice of sitting normally at a table or going to sit at a grill, to watch them cook your food right in front of you. We decided to sit around the grill for lunch.
They had a lunchtime deal where you got to pick two meats and also get rice, vegetables, and salad all for $14. The salad came out first and had a peanut sesame sauce which started the meal off with a bang. Then out came the chef who was going to prepare our meal right in front of us. He started off by preparing the rice and vegetables, then continued on with the seafood. He did some very entertaining things while preparing the food, he made a onion tower and made fire come out of it. He also had some sweet tricks with his spatulas to crack eggs.
I myself ordered the swordfish and chopped sirloin. The chef just went around preparing the food and throwing it on your plate. So you pretty much ate it as you went, which I thought was nice. My swordfish was done first so I was able to eat that then got my chopped sirloin. It was the first time I had ate swordfish, and I came to be very surprised on how tasty it was. It had very good flavor and cut like butter. The chopped sirloin melted in my mouth which topped off the meal.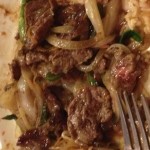 To conclude the meal, for dessert I ordered their fried ice cream. The fried ice cream was a scoop of cinnamon ice cream on the inside and was coated with a cinnamon shell which was very crisp and went well with the ice cream. I would definitely recommend this to anyone who enjoys seafood or steak and enjoys good entertainment. Yes the prices are a little high, but the amount of food you get and the entertainment pays for itself. I will be back again soon.