The House of Q has been named one of Siouxlands best places to get BBQ around the area. While there are not many non-chain BBQ restaurants in Sioux City, The House of Q is one place you must eat at if ever in the area. If you are not from the area you might have some trouble finding the place, they are tucked back behind a large furniture store. So unless you know the area well you could be driving past it all this time and not know what you are missing out on. Posted below is an outside shot of the restaurant in case you need to know what you are looking for.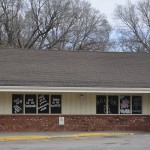 Once inside you are greeted by a friendly staff that is all about customer service. They made sure we all knew where the menus were located, the specials of the day and how and where to order. They had plenty of space for seating. This would be a great place to take a family or team after a game or just a night out for dinner. They had a very simple menu that was strictly BBQ, so if you were coming for something else this probably is not the place for you.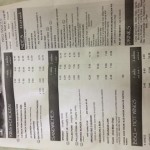 While looking at the menu, deciding what I was going to get was a difficult decision. But I saw smiley faces next to some of the items on the menu, which I assumed meant they were favorites by the restaurant and customers. So I decided to go with the bacon wrapped chicken fingers, which was on of the house favorites. I got five chicken strips with two sides and a drink for $10.79. They also had quite the variety with side dish choices which was nice so you could mix and match how you wanted. The two sides I selected were the mac-n-cheese balls, and macaroni salad. The one thing that stood out to me was how fast we got our food, and how fresh it was. I was very impressed with that.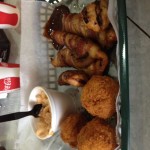 Overall, by the end of the meal I was uncomfortably stuffed, which was not a bad thing. But you better come hungry to the BBQ joint. The service was top notch and they catered to our every need. The atmosphere was very homey and made you feel like you were at home eating some BBQ. If you are looking for a great place for BBQ look no further than right around the corner in the Morningisde area, at House of Q.