by Tracie Tuttle– Michael Cody Drury, a Morningside alum, currently has his art on display at the Sioux City Art Center.
The show, titled "Infinite Jux," is a collection of oil paintings that focus on the relationship between objects in the foreground and background of each artwork. Because of Drury's use of bright, contrasting colors and shapes, he effectively creates the illusion of 3D space on the 2D canvas.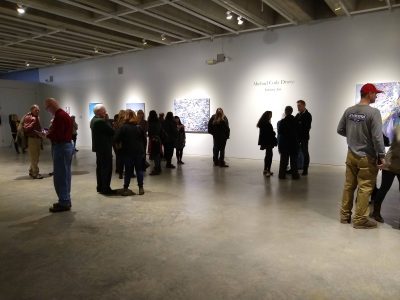 When talking about his art, Drury said, "The distinguishing point of these is that the layers are photo realistic, [they're based on] photo collages I developed."
The artist continued by referring to crossfading, a technique that DJs use when transitioning between songs, as one way to interpret and understand his art. He also encouraged viewers to come to their own conclusion about the meaning of each piece.
"The quality of painting humbles me. I am overwhelmed. They are so beautiful, so rich," said Terri McGaffin, long-time mentor of Drury's and Morningside professor emerita
She went on to say that "Words cannot describe this kind of interest in juxtaposing, in contradicting things, but making them come together and harmonious; I see it in his paintings."
After graduating from Morningside in 2006, Drury went on to earn his Master of Fine Arts degree from the School of Visual Arts in New York. He currently lives in Queens, New York, where he continues to create a variety of art.
"Infinite Jux" is open until May 3 and is free and open to the public.
You can learn more about the artist on his website or follow him on Instagram