Bev's on the River  – website
Today we visited Bev's on the River.  Bev's on the River is an upscale restaurant located along the Missouri River at the south end of Hamilton Boulevard. Approaching this place, the first thing I noticed was that this place was huge. I had originally thought that it was just a small restaurant located in the nearby hotel. The building almost looked brand new and it had a very modern appearance to it. The interior of this building was very stylish. Even the ceiling was creatively decorated in a modern motif.
The menu we received was a lunch menu. It included numerous sandwiches as well as some soups and more significant entrees. Our group went a little crazy today. I'm pretty sure we ordered every appetizer on the menu. This includes things such as onion rings, spinach artichoke dip, shrimp cocktail, and crab cakes. I personally ordered a serving of the crab cakes. I have never had a crab cake before so I have nothing to compare them to. That being said, I found the crab cakes delicious. They contained a lot of meat with seemingly little filler. They came with fresh lemon and a rich aioli sauce. This sauce really took the crab cakes to another level. It was extremely rich and flavorful.
For my main course, I ordered prime rib with garlic mashed potatoes. When first served this entrée I noticed that it was much larger than the menu stated. The menu said a seven ounce portion while what was on my plate was at least twelve. It had a flavorful spice rub and was cooked to a perfect medium rare. The only problem was no matter how much of it I ate, it just wasn't getting smaller. The portion was huge. They were not kidding when they called them garlic mashed potatoes. The garlic in these potatoes was like a smack in the face it was so strong. I definitely won't have any problems with vampires today. The entrée also came with a broccoli cheddar soup that was okay, but easily forgettable compared to the other things I've eaten here.
While already full, I decided to order dessert. The tabled ordered several servings of chocolate cheesecake and carrot cake. I personally ordered the cheesecake. The cheesecake came with fancy garnishes on the plate. I ended up having about three bites and couldn't go on because it was so rich. The dessert was just too much for me to handle.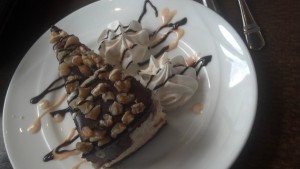 Bev's on the River is a great restaurant if you are looking for upscale dining. Expect to spend around twenty dollars per person. You can spend much more or less than this, but I think twenty is a good average of the price of a full meal. I would recommend this place to everyone provided they have the money to spend. I'm not sure I'll go back simply because it's a bit out of my price range. Overall, Bev's on the River is a great restaurant that I'm glad I got to experience.