Today we visited Coney Island and Milwaukee wiener house. Both are Sioux City staples and are pushing ninety-plus years old. Before Mcdonalds and Burger King, you went to the hot dog shop. They are both located in the vicinity of downtown Sioux City and are actually within walking distance from each other.
The first place we went to was Milwaukee Weiner House. Even the exterior of this restaurant made it clear that it has been around for quite a while. Entering this restaurant was almost like stepping back in time. I imagine it doesn't look too different from the way it originally did. There were rows of old booths across from a very long cafeteria style service counter. The servers still wear the old-fashioned paper hats and the same old menu board is on the wall. The servers were quick and courteous. The man preparing hotdogs had clearly been doing this for a long time. He worked through our group of people in a pretty quick manner.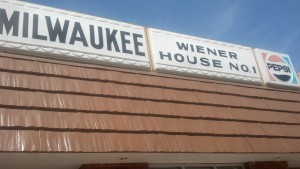 The food was your basic hot dog shop offerings. There were shakes, fries, chili, hotdogs and cheese in pretty much any combination you could want. You could also opt for a soda, potato chips, or beer. I decided to order two chili cheese dogs with mustard. The hotdogs looked very appetizing and there flavor did not disappoint. In not more than six bites I had completely demolished both hotdogs. What really made these hotdogs good for me was the chili. I loved their chili. It was a finely ground beef chili in a tomato base with no beans. This obviously the way hotdog chili should be.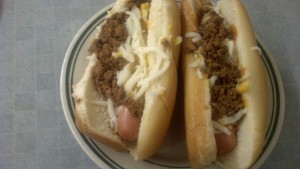 The second place we visited was Coney Island. We went to the original one downtown. Approaching this restaurant again proved to be a step back in time. It is a small storefront that goes easily unnoticed. I actually had forgotten that this Coney Island was still open. This Coney Island is run by married couple who are also the owners. My dad actually has memories of being a police officer in the 70's and being served by this same couple. Everything in this restaurant is pretty old, if not original. Even the toaster appeared to be at least thirty years old. The couple was very welcoming. The main difference between Milwaukee and Coney Island is the scale of the operation. Milwaukee is used to moving at a higher speed and moving through a lot of people whereas Coney Island moves at their own pace. This doesn't make one or the other better. It just adds to their individual character.
The food here is very similar to Milwaukee Weiner House. Coney Island offered a few more sandwiches than Milwaukee, but had fewer options for most other things.  I ordered the same entrée as I did from Milwaukee so I could compare the flavors. To be honest, they were both delicious. Both restaurants had good chili and both had hotdogs that for some reason you just can't get to taste the same way at home. I think that I would be hard pressed to differentiate between the hotdogs served at these two restaurants.
Overall, I would recommend both restaurants to anyone who likes a good hotdog. I am partial to Milwaukee Weiner House mostly due to childhood memories. Food quality and service are great at both establishments.  If you go to either restaurant, expect to spend five to seven dollars. Another option would be to take my route and try both in one go. It's definitely worth it and you only end up spending around ten dollars.