Red Bones Café- 401 W. 7th  Sioux City, Iowa   https://www.facebook.com/redbones.cafe
When Mexico Lindo shut down at 401 W. 7th street I was really bummed. It was my favorite restaurant in Sioux City. Little did I know that a fresh and interesting restaurant would soon take its place. Red Bones Café is a soul food restaurant that offers dishes that aren't available anywhere else in Siouxland. They brought a unique café to Sioux City that fills a niche that was previously overlooked.
Approaching Red Bones I recognized the same old run down building as before. Red Bones added a sign and did little else to change the exterior. I think this really adds to the character of the establishment. Entering Red Bones Café I was greeted by lively colors and an open seating area. The café itself is quite small and our group almost occupied the entire café. The overall feel of the environment was worn but welcoming. It was the type of place that really made you feel welcomed and at home.
Once seated, we promptly received menus. The menus contained an extensive list of southern comfort food.  They had your basics such as collard greens, okra, fried chicken, catfish, and gumbo. They also had some original spins on southern food such as their signature "Soul Wrap" containing different meats and vegetables wrapped in a jalapeno tortilla. The gumbo seemed really intriguing to me as did almost every side dish on the menu. I finally decided to try the catfish with collard greens and mashed potatoes.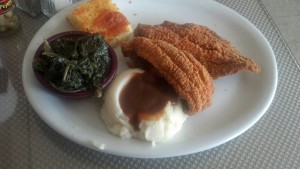 Considering the size of the group, the food arrived in a timely manner and was clearly cooked to order. The food was fresh, hot, and appealing to the eye. The mashed potatoes were neatly positioned on the plate with a serving of brown gravy in a central divot. The collard greens were in a simple little bowl sitting on the plate. They appeared to be a dark green hue and were swimming in a buttery broth. The catfish consisted of two large fillets breaded in a cornmeal mixture. They were golden brown and smelled fresh. The dish also came with a piece of golden cornbread served with honey.
I'm going to preface this section by saying that I have pretty much never had soul food. I am no connoisseur and everything I ate besides the mashed potatoes was a first for me.  I started with the mashed potatoes because I think that they are bound to be good and pretty hard to screw up. They were rich, creamy, and enjoyable. I probably could've made a meal out of a plate of the potatoes.
The collard greens were extremely salty. It's my understanding that this is the way they are supposed to be. I just think they are not for me. The taste was just too intense. I was going in expecting a mild vegetable flavor and ended up getting punched in the face with a bold buttery flavor.
The catfish breading was again, just not for me. The fish itself was cooked perfectly and the breading was prepared just as it should be. I just don't enjoy cornmeal breading. It came highly recommended to me and others thoroughly enjoyed it. I would definitely still recommend it to others.
The cornbread was very sweet. I actually treated it like a dessert because I found the sweetness so enjoyable. It was the perfect ending to a well-cooked meal.
Red Bones Café is a great little restaurant.  They are family friendly and fairly priced. (Expect to spend 7-10 dollars.) I would recommend this restaurant to friends and anyone who enjoys fresh authentic soul food. Don't let the exterior scare you a way. If you go to Red Bones Café,  be ready to feel at home and satisfied.