Today we ate at El Tapatio. El Tapatio is a Mexican restaurant located on Gordon Drive. The exterior of this restaurant really isn't much to look at. It's a simple restaurant with a brick exterior and a sign on top. It wasn't dirty looking. It was just very simple.  Entering El Tapatio we were seated quickly. The room decorated with Mexican themed paintings and statues. It was decorated like your average Mexican restaurant. If you've seen one, you've pretty much seen them all. An odd thing I noticed about this place is the small size of the dining room. It seemed like the dining room was really small compared to the size of the building.
The menu contained various Mexican foods including a few entrees that were unique to El Tapatio. For example, they had a dish that our group referred to as "the meat tower. It was literally several types of meat served with a shrimp skewer sticking out of it. That's pretty funny and cool in my opinion. Another interesting entrée was Mexican steak. I always enjoy the spices put on a Mexican steak. Although these dishes were tempting, I ended up ordering a shrimp trio……….and a taco. I don't know why. It's a Mexican restaurant so I ordered a taco. Leave me alone.
My meal arrived fairly quickly. It was hot and freshly cooked. The shrimp were cooked three different ways. There were shrimp fried in a coconut-based breading. The second kind was a shrimp marinated and fried on a skewer. The third kind of shrimp was pan fried and cooked in a sweet and spicy sauce that I couldn't identify. I almost thought of it as a Mexican barbecue sauce.  This dish was awesome. The shrimp were large and there were a lot of them. The flavors weren't just coating the shrimp. They were cooked into the meat of the shrimp. The rice was good, but it almost made me think of Asian fried rice. I think I even saw pieces of egg in it. I liked it either way. I never even got too the taco because there was so many shrimp. I ended up taking it home. It looked like your average Tex-Mex with ground hamburger.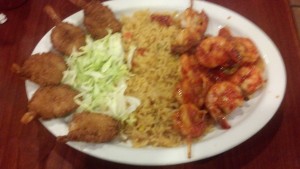 El Tapatio is a pretty good Mexican Restaurant.  I'd recommend this place to anyone that likes Mexican food. The prices are very fair there. You can spend anywhere from five to fifteen dollars depending on what you want. I spent on the higher range, but it was well worth it. I'd definitely go back to El Tapatio anytime.