Bear with me in this week's blog post – I'm about to get a little 'fan-girl' crazy here with Moodle.  And for anyone who knew about these bulk grading and upload processes and never told me…Shame! Shame! Shame!
Last week I shared with you a way to help the first start of the grading processes for Moodle assignments go a bit quicker using the Download All Submission option.  At that time I also alluded to the fact that this can be the first step in helping later on with submitting assignments back to Moodle. Today I share with you the thing the literally made me want to jump and shout to the world what I think will be a LIFESAVER for those of us who do a lot of electronic grading.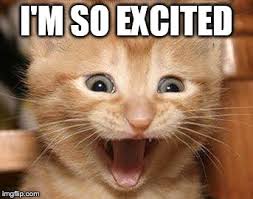 Image from https://imgflip.com/i/1dqrhu
But before I get into the really exciting part, let me share with you a few of the features in Moodle that you can use to provide different types of feedback to your students.  When you create or edit an assignment you can select the different ways of providing feedback: Feedback Comments, Feedback Files, Offline Grading sheet, and Comment inline.
Feedback Comments, when enabled, will include a textbox for you to write comments back to your students.  Feedback Files, when enabled, will provide you a place to upload a file – most likely a Word file that you have made electronic comments on.  If you have provided a textbox for your students to type their assignments into (you do this in the Submission Types –>Online Text) and enable the Comment Inline feature, you will see your student's responses from their online text submission in your feedback comments textbox and you can comment within the student's text (see below for what I mean by this).
The settings: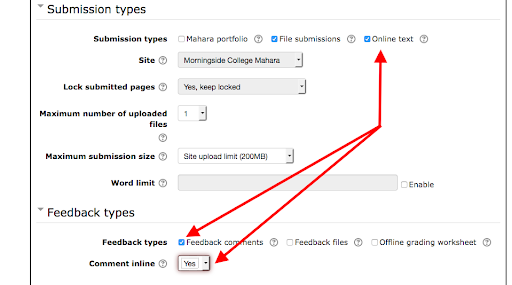 How it works:
But probably what I am most excited about is the fact that I just recently started to explore just what this Offline Grading Sheet was all about and WOW have I been missing the boat there.

When you enable the offline grading sheet, you will then be given an option in the drop-down menu where you can also 'download all submissions' to download the grading sheet.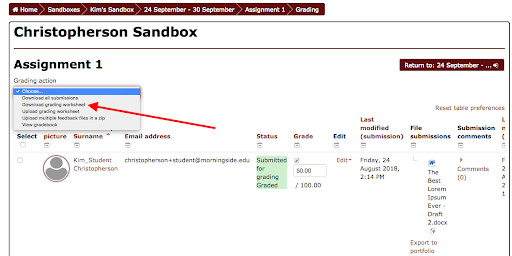 Doing this will download an Excel file to your computer that is formatted so that all you need to do is enter in the points grades for students on the single excel sheet.  You can also write in your feedback comments on this grading sheet as well.
Once all of the grades are entered, then you can simply upload this sheet back (don't change anything about the formatting except for the grades and the feedback you entered) and Moodle magic updates all of the grades for you at once!  You can do similar quick grading on the initial page of an assignment in Moodle, but this allows you to also do this while not connected to the Internet (at least until you have to upload the sheet). Here's a quick demo of how this works:
So, once I learned about that I decided to explore the other options in that drop-down menu that I typically ignore (we truly just don't always have the time to explore this stuff right…plus we don't want to break the Moodle).  So I explored what the "upload multiple feedback files in a zip" was.
Well, surprisingly it's exactly what it sounds like.  A way to upload all of those commented worksheets or papers at once (rather than going student by student).  The trick here is that you need to first download all of the files using the "download all submissions" tool.  This names the files in the way that is necessary to batch upload again. After that all you need to do is to save all of these files into a zip folder and then upload it back and BOOM! All the files are there.  What might take you the better part of an hour to do when turning back assignments (especially if you have have 30-40 or more students in a course) is now done in the matter of a few minutes! Now if we can just get the actual grading to go quicker right?! See this magic at work here:
So are you as excited as I am about this? This will literally save me hours of time as I grade assignments this year.  The one thing to be aware of is that students do not receive an automatic email notifying them of these updated grades and files.  But this is easily done by simply clicking the "save all grading changes" at the bottom of the quick grade view.
**Edit to add information**
Unfortunately if you use 'Rubrics' or 'Marking Guides' as your grading type in Moodle the Offline Grading Sheet feature is not available.  However, you can still do a bulk upload of all feedback files.