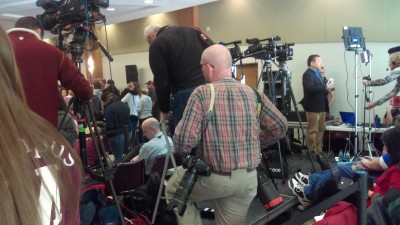 By Kayla Samek—With the Iowa Causes less than two weeks away, presidential candidates flock to Morningside College campus to earn support. They are not the only ones that come to the college, however.
On Friday, Jan. 15, Democrat Hillary Clinton sent her husband, former president Bill Clinton, to campus to campaign for her. Despite Mr. Clinton only being a surrogate and not a candidate himself, the media swarmed the Yockey Room of the Olsen Student Center. Media are a regular occurrence for students, and so is the moderate inconvenience.
Tiffany Lane, a reporter for Sioux City's KTIV news station, regularly covers political candidates' visits to Siouxland. Lane said that media outlets tend to send the same reporters to cover a single campaign.
"You see the same people even from places like CNN; it's not really different people even though it's not Hillary," said Lane. She has reported on Hillary Clinton's other stops in Sioux City. But the Clintons are not the only ones visiting Morningside, and so the media is a regular presence on campus.
Sophomore Brandi Blunk has gotten used to the regular presence of candidates. She did not attend the Clinton rally, but saw the media and attendees that filled the Yockey Room and spilled into the lobby of Olsen Student Center.
"It's always chaos," said Blunk. "But I was surprised by the [number] of stations here just [for Bill Clinton] since it's not Hillary." Students do get used to the crowds on campus whenever a candidate campaigns at the College.
Presidential campaigns, and including visits to Morningside are the focus of the media, at least until the Iowa Caucuses on February 1.