By Iandra Estupinian–Morningside College's Athletic Department is introducing the new Mustang Sports Show; an informative broadcast for everything that is related to Mustang athletics.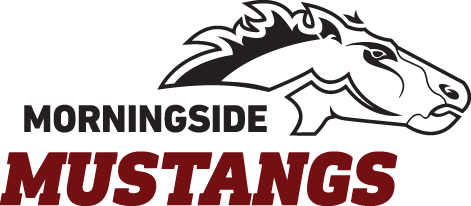 Sports Information Director, Mark Adkins, is the mastermind behind the show and has tasked Mass Communication students and sports enthusiasts, senior, Reilly Mahon and junior, Jonathan Covert, to both host and produce the show.
"Mark Adkins had a similar show at the last school he worked at before coming to Morningside College," said Mahon. "It is important for students to know about the Athletics Department and the athletes themselves to show them that they are students too."
The Mustang Sports Show is a YouTube channel that keeps Morningside students and faculty up-to-date in what's happening in Morningside sports. The channel includes videos of play-by-plays, upcoming game previews, and interviews of coaches and athletes who give a deeper insight on what it's like to play and prepare for their seasons.
Balancing their schoolwork and releasing episodes on a bi-weekly schedule, both Mahon and Covert have found that this show has helped them prepare more for their future endeavors in sports-related broadcasting.
"My favorite part of hosting the show is just talking sports," says Covert. "This is also the career I plan to go to and the show just expands my sports knowledge. I think once the show takes off students will like it."
Mahon added, "My favorite part of being a host of the Mustang Sports Show is learning many different sports at one time. It makes you think and learn how to remember five to six sports in an episode. I hope that all of the students that watched the show will enjoy it."
The Mustang Sports show can be found on YouTube at Morningside College Athletics Video Stream or through links on the Morningside Athletics Department Twitter and Facebook pages.