by Jesseca Ormond — Small crowds gathered around two food trucks in Peters Park this and last Thursday afternoon. One truck is from Heartland Coffee & Nosh and the other is from Daga's Mexican Grill. The collaboration of these two trucks is called the Morningside Mash-up.
The Peters Park food mashup brings lines of people for both Heartland's Coffee and Nosh and Daga's Mexican Grill. The Morningside Mashup will be around every Thursday, 11pm – 2pm until September 27. Form of payment is cash only.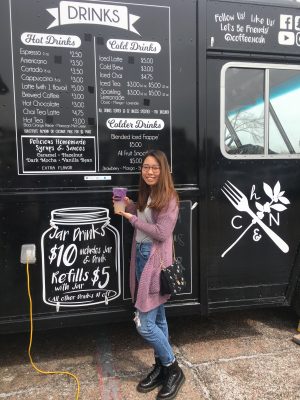 A specialty of Heartland Coffee and Nosh is their Sparkling Lemonade which comes in additional mango or lavender flavors. Maya Amihama describes this drink as both "pretty and delicious." Evelyn Hernandez describes it as "aesthetically pleasing."
Customers place their order at the window of the truck and wait for their names to be called. Shelia Ruiz describes the moment her name is called for her Taco order as a "war cry." Ruiz said, "It's as if I've been prepared, celebrated and ready to go into battle."
Menu items from Daga's Mexican Grill include tacos, burritos, quesadillas, tortas, chips and queso, guacamole or salsa. There are also add-on items such as avocados, jalapenos and various types of cheese.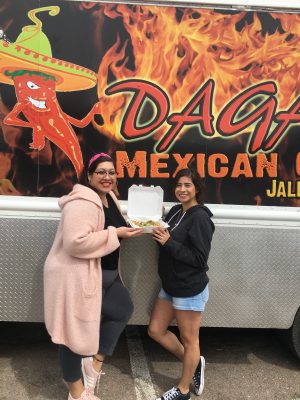 Heartland Coffee and Nosh has variations of hot and cold coffees such as cappuccinos and iced lattes, specialty drinks and big jars of refillable lemonade. There are food options such as cinnamon roll waffle bites, shawarma and chicken or vegan bowls.