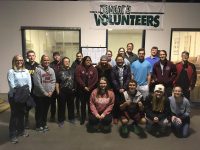 by Alyssa Nehring–For only being three years old, Christ Connections has made strides as a student group. The members' work can not only be seen on campus but also throughout the community.
Christ Connections works to bring together both Christians and non-Christians in an environment where people can grow in their faith and ask questions. "Christ Connections is an open place to worship and talk about our faith with a great group of people," says Kaitlynn McShane.
Karissa Heckens started Christ Connections as a freshmen in 2015. The first year recruited six members and since then the group has grown to a consistent 25 members who are actively involved. The number of events has increased a well.
There are three types of events that Christ Connections puts on every month. Every Monday night is based on fellowship. "These nights are helping build a family," explains Heckens. Once a month they go out into the community and volunteer. They also team up with Briar Cliff and local churches to put on a worship night.