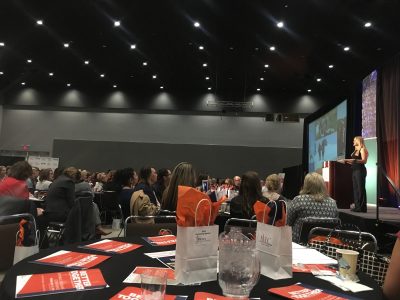 by Jesseca Ormond– Students and professionals from the Siouxland area recently came together for the Iowa Women Lead Change annual women's conference. The conference was held February 15th at the Sioux City Convention Center.
The theme for this year's conference was Iowa Women and Men Lead Change – Better Together. Director of Iowa Economic Development Authority, Debi Durham, on including men in this year's conference, emphasized the importance of diverse thought.
"It is critical to have a voice… having a leadership team of men and women being transparent and having a culture that brings about diversity of though," Durham said.
Durham went on to express her gratitude for not only having the support of women but also that of men throughout her career. Durham's inspirational quote of choice was by Susan B Anthony and it states "men of quality are not intimidated by women demanding equality."
Keynote speaker Robyn Benincasa, a world champion adventure racer, San Diego firefighter and a CNN Hero, spoke about the essential elements of extreme performance. Benincasa emphasized personal responsibility. "Find the way to be your best self on your worst day," Benincasa advised.
Keynote male speakers in this year's inclusive conference were Jason Lauritsen and Joe Gerstandt of Talent Anarchy, in Omaha, Nebraska. They broke the ice by organizing a flash mob and expounded upon organizational culture and being authentic.
"Aspirations represent the best versions of ourselves while the things we do are our actuality, they show our habits and choices," Lauritsen elaborated.
Students from Morningsde College who attended the 2018 conference, described it as inspiring and its message a vital resource for shaping young professionals.