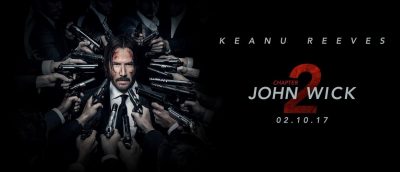 (03.23.2017) By Austin Brunick –In 2014 John Wick was one of the best action movies of the year, using choreographed fight scenes to make John, played by Keanu Reeves, dance across the screen.
Fans of the film have long awaited the sequel, directed by Chad Stahelski, but did John Wick: Chapter 2 live up to the high expectations?
The plot of Chapter 2 is much like its predecessor, with John being forced out of retirement when Santino D'Antonio (Riccardo Scamarcio) destroys John's house to force him by contract to kill Santino's sister (Claudia Gerini).
Fans that enjoyed the 70+ body count John laid out in the first film will definitely enjoyed this sequel, as John takes down nearly double that amount in this movie.
The cinematography of Chapter 2 differs from most action films, using fast moving but flowing camera shots to show the action versus traditional jump cuts. The fist fights are long, but showed that the actors had truly mastered hand-to-hand combat.
Overall, the second movie was not as great as the first, but made up for it by showing a darker, more committed side of John. I give the movie 4.5 dead bodies out of 5.