by Mari Pizzini– Movie adaptations of books have been all the rage, but it's common knowledge that many of these adaptations just don't cut it. However, the idea that "the book was better" has yet to stop books being made into movies.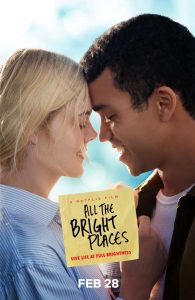 Netflix's All the Bright Places is a 2020 movie adapted from Jennifer Niven's novel of the same name. The book had been on my radar for about a year, but I finally decided to read it when I saw that Netflix had released their movie.
Warning: potential spoilers ahead.
The novel itself was quite captivating, however, it's writing style seemed a bit young for me. Granted, it is a young adult novel so Niven was writing to a particular audience that probably wasn't "college senior with an English major."
The two protagonists, Finch and Violet, meet rather abruptly in the book: on a bell tower ledge. It is implied that both are contemplating suicide, a rather dark theme that weaves throughout the novel. Most importantly, the novel implies that Finch and Violet's peers assume she saved his life, when in reality, Finch saved her's.
This is where the movie started falling short. There is no mention of her assumed life-saving, which changed their friendship dynamic. The plot of the movie also missed relatively important confessions from Finch. The two never journeyed to a mobile book seller, and Violet's bike isn't orange.
Finch's father never makes an appearance, neither does his stepmother or step brother. I'm not saying I wish his abusive behaviors were caught on film, but Finch's character never fully developed without them. To cap it off, Finch's younger sister Decca isn't present, which also means one of the most important scenes in the book is cut from the film.
As for the ending, I don't even want to talk about it. It was so far from the novel that it made me cringe. Netflix made the movie into Violet's story, when All the Bright Places is supposed to be Finch's story to tell.
I will say that they don't shy away from the mental health aspects of the novel, and for that I'll give them kudos.
All the Bright Places as a movie adaptation receives 2 of 9 planets from me (and yes, I'm counting Pluto). As a novel, I'll give it a 7 of 9.