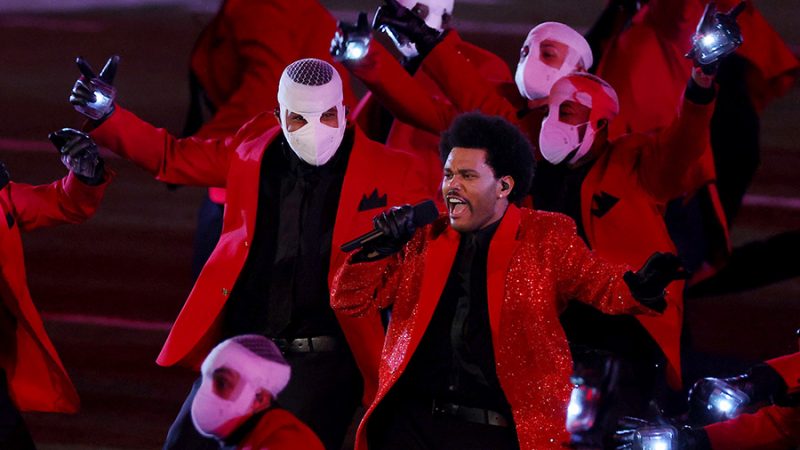 by Hailey Barrus–It is no secret the Super Bowl is one of the most–watched events in the United States and across the globe. A big part of the game goes beyond football, though. Many viewers tune in for new commercials and halftime entertainment.
This year during Super Bowl LV the Tampa Bay Buccaneers faced off against the Kansas City Chiefs. NFL fans discussed the coming of age of young Chiefs quarterback Patrick Mahomes, and the legendary Tom Brady. I, unlike most of the viewers, only cared about how good the halftime show was going to be.
When I heard the Weeknd was going to be performing I was surprised. Usually the Super Bowl gets "mega stars" to put on an entertaining show, someone that everyone knows. That was not the case for this Super Bowl. The Weeknd I remember as being super popular back when I was in high school. Although not that long ago, five years can bring a lot of change on who is "in" and what is "old news."
I feel like the Weeknd fits under the category of "old news." The popstar performed several songs that were his top hits from five years ago, and in my opinion did not do a good job of entertaining. 
The performance started with a skyscraper background with lights and backup dancers I thought were pleasing to watch, but then the Weeknd showed up. From auto tune and lip syncing to an ill–timed joke about his previous plastic surgery, the hiphop artist was a mess throughout the entire show. 
For me the show did not follow a story or a theme so it was hard for me to understand. I am sure Weeknd fans were holding on to every note while watching him, but for me and millions of others I was thinking, "What the fuck is going on?"
The dancers, dressed in red, all wore face bandages mimicking the Weeknd's bandages displayed during awards ceremonies when he got plastic surgery done on his face this past year. Now the only reason I know that is because I Googled it, but I think millions of other Americans are in the same boat as me when I say his performance simply sucked. 
••••
by Kassidy Hart–Every year, the NFL searches for the newest and hippest talent to perform during their Superbowl half-time show. It allows for them to jack up the cost for fans to see both a memorable football game and concert performance.
And with these performances, there's always expectations. Even if you weren't born yet, you can still recall the "greatest performance of all time" put on by Michael Jackson, including the focus of national unity in 1993 where he performed "Black or White." Another one that is easy to remember is Katy Perry's 2014 performance that had the unique blow-up sharks dancing on stage. Last year, Beyonce and Shakira got up there and shook what their mamas gave them.
For this year, The Weeknd was rumored to have spent seven million of his own dollars for his Superbowl performance. Yet, as a watcher, I felt like I was constantly left waiting for more.
The Weeknd sang some of his most popular hits, ranging from "Blinding Lights" to "Can't Feel My Face." Even though I find myself jamming to these songs as I sit at red lights on a daily basis, the flashing lights and masked dancers for this special occasion didn't bring the "it factor" needed for a five-star Superbowl halftime show. 
The Weeknd seems like the kind of guy whose "got it", finding his own performance to be complete as a solo artist. I caught myself hoping to see someone like Justin Bieber, a close friend of his, or Drake, the man who made him big and was the one who signed him. Even his ex-girlfriend, former Disney star Selena Gomez, would've brought a woah-factor.
I guess when I think of half-time shows, I think of the craziest, most surprising shows that could happen. (This high expectation could be attributed to Justin Timberlake and Janet Jackson's infamous show in 2018…)
But yes, it was all-in-all a good performance. There were dancers out on the field, working their butts off for the final dance and many, many choir members that were necessary for the eerie tone at the very beginning of the show. But it was something that could have definitely been confused for a regular concert performance on his personal tour schedule. 
Maybe if I were there in person for the halftime show, I would have felt differently, finding the lights to be "blinding" and more memorable. But, since I was at home on my couch instead, I didn't truly understand the hype. I would've loved to see something a little more unexpected and awe-worthy from Tesfaye. 
I give it a 5/10. 
Update: To fully appreciate The Weeknd's halftime performance, it is crucial you understand "the character" he has created over the last year.
From watching a Tik Tok the morning following the show, I learned that the performance began all the way back at his Saturday Night Live debut in March 2020, where he wore a red suit jacket and had scratches on his face.
From that point on, you could see him taking each step a bit further to demonstrate the rise to and fall from fame, and finally, as last night showed us, the finale of an artist. This performance was more than a performance – using dancers in bandages to show multiple sides to this "character" he was focused on creating for a year.
After understanding his dedication to this form of art, I have more respect and a better understanding of the show as a whole. That being said, it still kind of stinks that the observer must understand this to get the whole experience because it cannot stand alone and make sense unless you are aware of his whole dedication to the story.
My revised total is a 8/10.