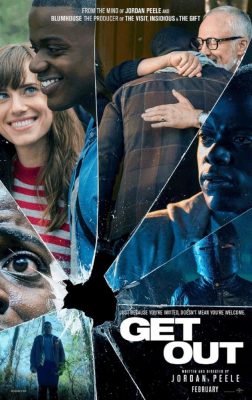 (03.21.2017) By Jared Martin — Get Out, the directorial debut of Jordan Peele is a psychological horror film focusing on racial issues with enough levity to keep things fun while making a point.
The film stars Daniel Kaluuya, an upcoming actor who plays a young African American gentleman who goes to meet his white girlfriend's (Allison Williams) parents. However, the movie then veers off into uncharted territory, exploring horror themes that movie producers typically avoid due to controversy.
Kaluuya is shaping up to be a big star in the future, particularly in the upcoming Marvel film Black Panther.  Kaluuya does a fantastic job bringing his character to life, dodging the stereotypical horror character demeanor, carrying an organic feel.
Williams also gets a fun role with a twist. She does a fantastic job with an interesting character, and was able to pull off some nice stuff in the second half of the movie.
A real treat in the movie, however, is the writing. Peele has assembled a fantastic script that's equal parts funny, thrilling, thought provoking, and deeply unsettling. It fits in with a group of recent horror movies like The Babadook, It Follows and The Witch that rely on slowly built tension rather than a multitude of jump scares, and succeeds marvelously.
Once the movie starts, the story doesn't let up until the very end, where it builds to one of the most viscerally satisfying climaxes in recent films. While the plot does become strange at times, perhaps too weird for some, those that are willing to immerse themselves in the plot will have a great time.
Get Out is an important piece of the current renaissance in slow burn horror movies and a knockout debut for Peele. I believe the film is definitely worth seeing, and one of the best movies to come out this year so far.