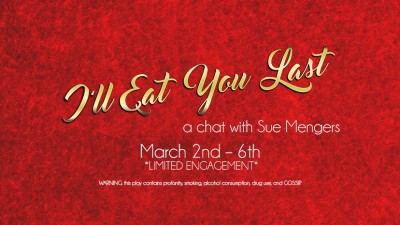 (03.01.2017) By Liv Minshall — Shot in the Dark Productions presents "I'll Eat You Last, a Chat with Sue Mengers," running from March 2-6 at the Evelyn Larson Theater in downtown Sioux City.
The show is a one-act story of Mengers' character, opening Thursday, March 2 at 7 pm.
The show is a limited engagement with only five performances, and the first performance will be at a discounted price of $15 for students with a valid student I.D.
The play is written by Oscar-nominated John Logan, and is directed by Adam Gonshorowski.
Morningside College's professor Leslie Werden performs as the titular role of Sue Mengers.
For more than 20 years Sue Mengers was the Hollywood talent agent you've never heard of. She represented a number of high-profile celebrity clients, including Barbra Streisand, Gene Hackman, Sidney Lumet, Steven McQueen, and Burt Reynolds, amongst many others.
She was also famous for her dinner parties, which were the envy of Hollywood. In the show, attendees are invited into her glamorous Beverly Hills home for an evening of dish, dirty secrets and all the inside showbiz details.
You can find more information or purchase tickets at "Shot in the Dark Productions" on Facebook or by visiting their website here.
Additonal performances include:
Thursday, March 2nd at 7 p.m.
Friday, March 3rd at 8 p.m.
Saturday, March 4th at 8 p.m.
Sunday, March 5th at 7 p.m.
Monday, March 6th at 7 p.m.