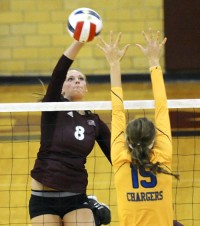 By Gabi French–Morningside lost 25-16, 25-21, 25-11 to cross-town rival Briar Cliff. The Mustangs showed stamina against Briar Cliff Chargers, where the Mustangs were involved with some of the longest rallies of the season.
Jennifer Buyert was the lead hitter for the Mustangs. Buyert accumulated nine kills for the team. "I knew I needed to put the ball away for my team, and I wanted to get set every ball," Buyert said. Buyert also led the team with blocks, where she had four block assists.
Gabi French was next on the team with kills with six, followed by Aneisha Ford with five.
Morgan Gourley was a defensive machine in the back row where she covered 15 digs for the Mustangs. Gourley was just two shy of her career high of 17. French was next on the defensive side with 14 digs, Hannah Roberg, Katie Kuck, and Morgan O' Malley produced five digs for the Mustangs.
Morningside will see the Chargers again when they wrap up the regular season November 3. The Mustangs next game will be against Concordia in Seward, Nebraska.