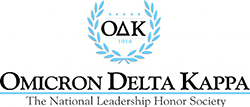 By Jenni Beaver–Omicron Delta Kappa is a national leadership honors society with 252 circles on campuses across the country, including Morningside.
During the fall semester of their sophomore year, many students will receive an application. It's a note of congratulations for keeping your grade point average at or above 3.5, and it's an invitation to apply for ODK. Students are evaluated on their academic standing as well as in five other areas of leadership excellence: athletics, campus or community service, creative or performing arts, journalism and mass media, and scholarship.
In the spring students find out whether or not their efforts in one or more of these areas will help them qualify for a spot in the nationally recognized organization.
According to Morningside's circle president, Jack O'Brien, ODK is "Morningside's super-group. It's all about gathering leaders from different areas of campus life and working together to develop leadership skills, create a culture of success, and give back to our campus and community."
Faculty secretary Leslie Werden says, "Where else can you see the leaders from all over combining their efforts for the betterment of our campus community?" In addition to the collaboration of leaders, ODK is a great resumé builder. Members are given national opportunities such as scholarships and fellowships.
While the benefits of the organization are a great reason to apply, ODK faculty advisor and chair of the national advisory council, Bruce Forbes says it's more than recognition and a line in a resumé. "It is to be part of leaders across campus to make a difference on campus and in the community."
If you want to work in collaboration with other campus leaders, be given scholarship and fellowship opportunities, and have fun while helping your campus, make sure you apply for Omicron Delta Kappa if the email comes to you. As Jack O'Brien says, "It's fun getting to network with students from all kinds of majors, activities, and backgrounds. It isn't an opportunity available anywhere else."