By Emily Rotthaler– Construction of the new Rosen Ag Center and Lags Greenhouse was supposed to be finished by August 15. As a result of delivery shortages of materials, however, the Ag department had to push back the completion date by at least two months.
With the most recent addition of glass plates to the exterior, the building is slowly but surely taking form. Although, shipment delays of materials needed for the completion of vital internal and external parts put a hold on the construction of the interior.
According to Dr. Thomas Paulsen, head of the Applied Agricultural and Food Studies Department, the construction crew is currently missing doors, insulating material for the roof, and internal dividers for the rooms. Once these elements get installed, the electricians can begin their work inside the greenhouse.
"By the end of the month, we should see a lot of progress, but I don't know if the greenhouse is going to be done by then or not," Paulsen said.
As for the area around the greenhouse, one of the next few steps will be the construction of stairs leading up to the entrance. Following that will be the installation of a sod and sprinkler system in front of the building.
Regarding the possible date for an opening ceremony, Paulsen said, "We are holding off on that because we really don't know when it's going to be. It could be November 1. It could be Thanksgiving. It could take all the way to the end of the semester. Realistically, we will probably have some special events in the spring."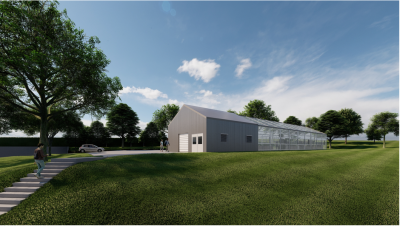 Because of the construction delay, the Ag department was forced to cancel its fall greenhouse management class and postpone it until the spring semester.
One of the students who was planning on taking this class is senior Agricultural Education major Anna Van Dusen.
"I was extremely excited for the opportunity to start this year in the greenhouse, so I was disappointed when the greenhouse class was canceled this fall," Van Dusen said.
Once the class begins in spring, however, Van Dusen and fellow Ag students will be presented with an extra opportunity. Morningside University and the Sioux City Career Academy are partnering together on a project for the 2021-2022 school year. Van Dusen is especially excited to work with young Ag students.
"Partnering with the students there gives all of us ag education majors the opportunity to work hands-on with students and gain teaching experience along with gaining general knowledge of running a greenhouse," Van Dusen said.
Not only Morningside students and faculty are eagerly awaiting the opening of the facility but so are the younger students from the Career Academy. It remains to be seen when exactly the Ag department will be able to officially announce the opening date.