By Rena Ketelsen– Due to COVID-19, international freshmen had to overcome several obstacles on their way to their first year at Morningside. Closed embassies, delayed flights, and transcript processing issues due to labor shortages turned the adventure of going to the US into a struggle.
The main problem that a lot of international freshmen ran into this year was getting their visas. Some students even had to go to extreme measures
To get through customs and enter the US, a student is required to present an F1-Visa and an I-20. Their school provides the latter, but they must have an appointment at an American embassy to get a visa.
The problem this summer was that a lot of embassies in countries like Denmark and Sweden were closed for a long time. Morningside's soccer coach, Tom Maxon, explained that this made it so students couldn't get appointments early enough.
Nathalie Larsson, a freshman from Sweden, recounted, "The US embassy in Sweden was closed so I had to go to Frankfurt, Germany. I went by car which took almost 20 hours and had my appointment at the embassy. Then I had to wait for my passport and visa in Frankfurt for one week."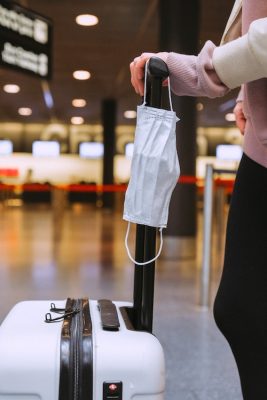 Another problem was the labor shortage which resulted in changes, reroutes and cancellations of many flights, according to Maxon. This meant that a few students arrived late, because there were some last-minute changes to their flights.
Jolina Stübner, a freshman from Germany, explained, "My flight plan got changed quite a lot, but that wasn't a major issue. Just annoying."
On top of that, all international travelers to the US needed to get tested for COVID-19, regardless of whether they were vaccinated or not.
Stübner said, "Even though I had been vaccinated when I got here, I still needed to have a negative COVID test."
According to Maxon, this caused a student from Denmark, who tested positive for COVID, to arrive two weeks later than initially planned.
Another result of the labor shortage was a tremendous backlog at InCred, the company that processes international students' transcripts. Maxon explained that a few students didn't have their transcripts processed in time before their first games, so they were ineligible to play.
For Morningside's returning international students, visas and transcripts weren't a problem, as they had already completed the process in previous years. The only problems they had to deal with were the cancellations and changes of flights.
Maxon pointed out that the problems and difficulties the coaches and the students had to deal with this year were "minor from last year, because we, in addition to all of these things, had quarantine last year and we had all of these other things that we didn't have this year."
With everything going on, Maxon still found a little humor in the soccer players' situations.
"I think the Europeans are mainly amazed that, after all of the rigor in getting here, we take them to a restaurant and there is no masking, no nothing. They just come here and it's like Covid never existed."
In the end, all of the international students Maxon recruited, managed to make it to Morningside and have already completed their first month of classes.