By Kassidy Hart– Morningside students from all different groups on campus came together to represent and gain exposure at the annual activities fair on Wednesday, September 1, down the Hilker Campus Mall.
"Approximately thirty different student organizations were in attendance," Student Government Director of Communications, Collin Adank, said. "I am unsure and would be afraid to guess [how many students showed up], however, it was a great turnout. It was so good to see students interacting again."
Groups were invited to claim a table and create displays with awards and accomplishments, to reach new students on campus and provoke interest in membership. These clubs ranged from political and professional honor societies to more light-hearted, and hobby centered clubs.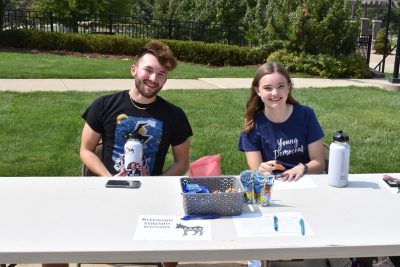 "[Sinfonia was] out [there] to gather more people who love music as much we do," junior Sinfonia officer Jaden Anderson said.
Outside of just recruiting new members, clubs also found this to be a great opportunity just to get the word out about who they are and what they do.
"We [tried] to spread the word about the Mass Comm department by telling them about the radio station and Collegian Reporter," said sophomore Payton Miller.
Considering that this year's activities fair was post-COVID and had little restrictions regarding social distancing and masks, activities' members saw a significant outcome from students across campus as they walked down the mall and asked the clubs questions.
"I think that there was great participation this year," President of Morningside Republicans Garrett Anderson said. "Watching so many people come and listen to each club's spiel, even if they were only stopping by in between classes, speaks a lot about the freshmen."
Other than it being closer to a normal start of the semester, orientation activities had also just ended for freshmen. Orientation was a bit different this year, as the Marketing department planned multiple activities, like bringing in local food trucks and hosting a scavenger hunt with prizes, to get freshmen comfortable on campus before classes started. This opened a door for them to easily get acquainted with going to Morningside events.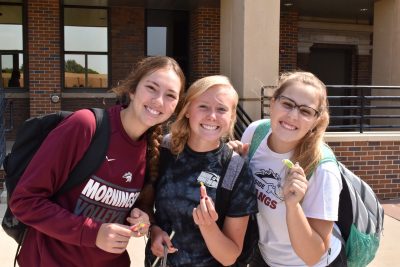 "My roommate told me about the teaching clubs to sign up for, so I thought I'd come just to check it out," freshman Alexa Noonan said.
Students from across campus showed up to hear about clubs and activities Morningside offers, gaining more insight into them through the great participation of the groups themselves. In the future, student government, with the help from University Engagement, Student Life, and Central Scheduling, and the physical plant, hopes to have even more groups on campus participate.
"It would be neat to have 100% student group attendance. However, due to scheduling that is not always feasible," Adank said. "[Also, e]nhancing the event to become not just the student event but also a community event. I enjoyed seeing some faculty and staff interacting with student groups at the fair this year. I believe collaboration is one of the keys to success."