by Mari Pizzini– What's been up with you, recently?
More specifically, what's been up with You, the Netflix-original show starring Penn Badgely as a serial killer. Or a romantic-gone-wrong. Or a criminal who just needs a little help.
No matter how you see Badgley's character Will Bettlehiem, aka Joe Goldberg, it's certain that he's going to see you.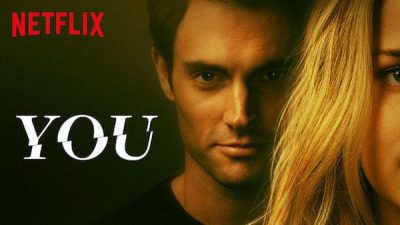 Season 2 debuted on Netflix on December 26 and overtook social media. Facebook and Twitter were both filled with memes calling Joe out on his ridiculous attempts at disguise and the show's crazy twists and turns.
The real question going into this season was "who is going to replace Beck?" Well, readers, Netflix struck back by introducing us to Love, a rich yet down-to-earth culinary artist. She leans more on the quirky, hippie side of the spectrum and is accompanied by her best friends: Gabe, Lucy, and Sunrise.
To confuse avid watchers even more on their feelings toward Joe, this season's plot attempts to cast him as the good guy though we all know of his past sins. By sins, I mean murders. It's no secret that Joe is not a nice guy, but his new alias Will tries to be better.
Sexual assault charges, faked suicides, Candace Stone, and Joe's infamous glass box come to play. I don't recommend watching some episode later at night, as they can be a little…intense.
All in all, You Season 2 breaks from what watchers knew in the original series. New characters, a new setting, and a new leading lady all meet in this season to keep everyone guessing.
You Season 2 is going to get 9 moon juices out of 10 from me. And spoiler alert: Season 3 is already in the works.