by Kiki Bennett–Schitt's Creek was created by the comedic genius of Eugene Levy and his son, Daniel Levy. The show follows the Rose family, whose riches turn to rags. The family is forced to move to Schitt's Creek, one of their last remaining assets, which was bought as a joke. The family moves to Schitt's Creek and quickly finds that the town inhabitants are much more boorish than the posh and privileged that they are used to.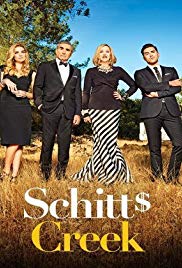 The show stars Eugene Levy and Catherine O'Hara as husband and wife along with their two adult children who are yet to leave the nest, played by Daniel Levy and Annie Murphy. Audiences will find themselves relating to the characters who do the terrible and unethical things we all wish we could do.
The shows quick wit humor along with the amazing chemistry of cast mates gives this show an edge that most shows lack. This is not the first time O'Hara and Eugene have acted alongside one another, becoming one of Hollywood's favorite comedy duos. 
Viewers will quote the iconic catchphrases of the show since it is hands down the most quotable show on TV at the moment. Viewers will also try to replicate the strange accent O'Hara created that is so iconic to her character. 
Schitt's Creek has perfected the unlikeable but likeable characters that so many shows have tried and failed to do. It has also perfected the art of making fun of people in their writing without it turning into a mean-spirited dialogue that so many movies and TV shows have tried and failed miserably at doing.
The Rose family will remind viewers so much of the rich snobby reality TV families we see on E and Bravo that it's uncanny. As creator Daniel Levy put it "would the Kardashians still be the Kardashians without their money?". What these outrageously rich families do if they lost their fortunes is what Schitt's Creek is so effortlessly able to portray. 
Schitt's Creek seasons one through five are currently on Netflix with the final season premiering on Pop TV in January. So, tune in with the cult following, or binge watch this edgy sitcom on Netflix.