by Abby Koch–Through an opportunity with the men's basketball team, senior Kyle Kommes has built up experience coaching and developing players. Kommes has been a part of the coaching staff for the team for now five years. But before helping with Morningside's basketball team, he was helping with his high school basketball team.
Kommes tried to play for Le Mars Community High School basketball team, but realized the competition he had for his position. "I played for a summer, but Tyler Borchers went to my high school and he was the same position as me," explained Kommes "I knew I wasn't going beat him out, so I ended up just being a manager for that year."
His time being the manager in high school gave Kommes the opportunity to be a part of head coach Jim Sykes' coaching staff. "Coach Irwin, who is Le Mars coach, introduced me to Kyle as he worked as a student assistant while in high school," said Sykes "I asked Kyle if he would be interested in helping out in college and the relationship grew from that point."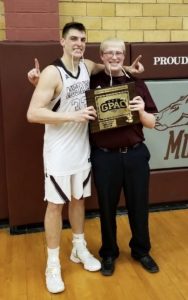 Kommes' responsibilities for the team during practices have developed and vary. Kommes helps with the scoreboard and taking notes on who is scoring during practice. He sometimes takes part in drills by being on the court with a pad and taking hits from players.
During games, Kommes' job is to monitor the game for fouls. "I have a notebook with me and I keep track of fouls. If someone's in foul trouble, I let Coach Sykes know," explained Kommes "I also keep track of timeouts. Two kind of underrated things that people don't think about but are pretty important."
Kommes' time with the team has allowed him to experience a variety of opportunities. He highlighted the most memorable one was when the team went undefeated at home, won GPAC regular season, and won the GPAC tournament his junior year. "I actually was lucky enough I got to climb up on the ladder and cut down a piece of the net from the tournament. I still have it hanging in my room, so it was a once in a lifetime experience," said Kommes.
His time with the Morningside basketball team has led Kommes to be the head coach of his own team. Over the summer, Kommes coached fifth and ninth graders for the United Sports Academy. He credited the opportunity to the connections he has made from coaching with Morningside.
The biggest lessons that Kommes has learned from his time coaching is how to be a leader and being positive. "I've always been told there are followers and there are leaders, and you can't really be a follower if you are a coach," said Kommes.