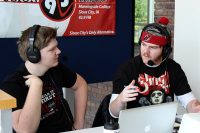 by Abby Koch–KMSC took celebrated College Radio Day Friday, Oct. 4, broadcasting for 12 hours in the HJF Library entryway. Close to 20 radio personalities took part in the broadcast.
College Radio Day is an annual event on the first Friday of October, hosted by the College Radio Foundation. The day helps brings awareness and celebrates college radio.
KMSC's radio personalities played music and discussed a variety of topics during the remote broadcast. At certain points, they gave away t-shirts to listeners. The station also featured the national special from the College Radio Foundation.
"This year's broadcast went well. We ran into a few technical issues early in the morning, but after that it all went fairly smoothly," stated Promotions Director Mari Pizzini. "We had a great turn-out from the Mass Comm department, and people seemed to have a great time with it."
The radio personalities enjoyed taking part and interacting with fellow DJs. "I like the bonding experience that the department has on this day," said junior Iandra Estupinian. "I meet students in the department who I don't know and I get to hang out with them while being on the radio. It's really fun to learn about other people's interests and preferred music styles." 
Pizzini was pleased with the campus response to the broadcast. "They seemed interested in what we were doing, especially since we were set up in the foyer of our library. They all passed by and smiled and waved, many even asked questions," said Pizzini.
People can tune in to KMSC using the RadioFX app or clicking the link.