by Abby Koch–KMSC is prepping for a 12-hour remote broadcast to celebrate College Radio Day. The broadcast will feature over 15 radio personalities throughout the day, sharing their thoughts and music tastes.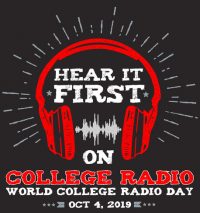 College Radio Day is an annual celebration on the first Friday in October, according to KMSC Station Manager Dylan Ferguson. "It is put on the College Radio Foundation, which is an organization that helps bring awareness to college radio stations. It's their celebration of what makes college radio great and a big celebration of college radio," explained Ferguson.
College Radio Day celebrates college radio's freedom, according to Promo Director Mari Pizzini. "College radio allows students to have an outlet to speak about what they want to speak about and play what they want to play. It also allows a learning experience for someone that is interested in mass media and it gives an idea of what mass media is," stated Pizzini.
Along with celebrating the day by broadcasting from 8am to 8pm on the HJF Library patio, KMSC has special segments throughout the day. One of the special segments is broadcasting the national special from the College Radio Foundation featuring The Black Keys.
Pizzini appreciates College Radio Day for the interaction it gives with fellow students. "I think the reason why I think College Radio Day is special is the fact we can get students around Morningside involved," said Pizzini, "It is visibility for us so people can see what we do and how we do it."
People can tune in to KMSC using the RadioFX app or clicking the link.