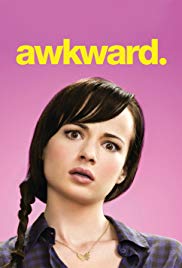 by Mari Pizzini–High school can either be the time of your life, or four years of crazy misadventures. Many have even gone as far as to say that the high school years are the peak years. But have these people forgotten the crazy, uncomfortable, awkward times of high school?
MTV's mid-2010's show, Awkward, goes about reminding people just that. From breakups to makeups, abstinence and sex, strict teachers and a-little-bit-out-there guidance counselors, this show has something for just about everyone.
Following Jenna, as well as her boyfriend, ex-boyfriend, and two best friends, Awkwardrecreates the craziness of high school. Juggling family problems and boy problems, Jenna is relatable as well as hateable.
Awkward realistically shows the pain caused by parent separations, as well as the mixed emotions concerning friendship and romantic relationships.
Jenna sometimes pushes the audience's buttons; she is easy enough to understand. For high schoolers and graduates alike, the situations are relatable.
Though Jenna speaks well to her audience, there are some issues. There seems to be a lack of supervision within the school itself. Students are constantly bullied and manipulated, and punishments are often left out due to the amounts of paperwork.
Students ditch detention as they know the supervisor will be napping, and parents send mixed messages to their kids. This is arguably normal but is still utilized as a tool for plot dynamics in not-so-great ways.
I believe that Awkward tries to tell the story of a, hopefully obvious, awkward group of teenagers in a believable and relatable way. Though some of the aspects of the story fall short, many are still easy to believe.
I give Awkward3.5 of 5 pieces of toilet paper stuck to the bottom of Jenna's shoe. Sorry Jenna, even in your review, high school is awkward.