by Abby Koch–Travis Scott provides an inside look into his career and life in the new Netflix documentary, Look Mom I Can Fly. The film shows Scott writing and performing the Astroworld album and his development as an artist.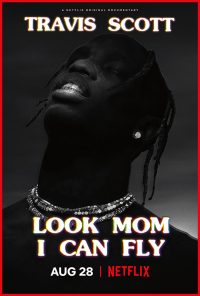 Look Mom I Can Fly time jumps throughout the entire documentary, focusing on Scott's process creating Astroworld and his concerts. There are occasional glimpses of him as a father and some childhood family footage. The occasional insights into his family life do warm the heart strings, revealing a vulnerable side.
Viewers see the entire process of how songs like Carousel and Sicko Mode were produced. Showing the process is the highlight of the film, which shows Scott editing raw beats and the conversations he had while collaborating. It provides insight on how a trap/rap album is created.
The other highlight of the documentary is the fan reactions to Scott. There are numerous shots of fans crowd diving or rushing venues to get the prime spots. Fan reactions definitely glorify Scott's presence as a trap artist.
Unfortunately, the documentary is repetitive. It repeats the same sequence of Scott getting excited about a beat while smoking a joint, then cutting to a live performance. It made the documentary feel slow and reached a point of boring halfway through.
There was no point in Look Mom I Can Fly where I felt that this documentary was necessary. It felt more like an ego booster for Scott and showed the dangers of overpacked concerts. I didn't find myself entertained or learning anything from this documentary.
Look Mom I Can Fly does have some spectacular shots, however, especially when it is showing concerts. The documentary shines by capturing Scott's shows, which are known for the use of colorful lights and pyrotechnics.
I felt there was insight into one of the most impressive trap albums, but it could have been presented in a shorter format. The documentary would have benefitted by cutting some of the scenes and long cuts out. Providing structure to a shorter documentary would have given it more flow and not confused the viewer.
Look Mom I Can Fly is a documentary that many people can pass on. If you don't know who Travis Scott is, or don't appreciate the musical genre, you won't get much. I would only recommend this documentary if you like the rap genre.
Look Mom I Can Fly gets 4/10 Astroworlds.