Story and photos by Abby Koch–Massachusetts Senator Elizabeth Warren was met with a packed room of support during her July 18 campaign stop in Sioux City. Warren's stop allowed her to expand on her plans if elected to presidency.
Voters filled the seating and the sides of the Yockey room at Morningside College. The rising temperature in the room did not ruin the excitement for supporters, however.

Before Warren took the stage, former congressmen Berkley Bedell took the podium. Bedell told his story about his hard work forming his company and how he benefitted the lives of employees, not corporations. He finished his introduction stating his belief that Warren had the qualities of hard work and is for the people.

Warren came out after Bedell's introduction and was met with a loud applause. She greeted Sioux City before stating, "I have a plan."

Warren announced the bill called the Stop Wall Street Looting Bill. She described that the bill would give a chance to businesses and to stop giving up when bad times happens.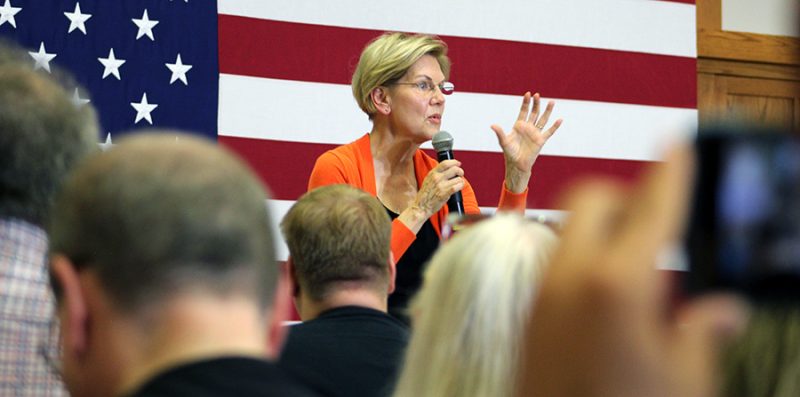 The senator then told the audience about her early childhood. Warren detailed how hard times hit her family after her father had a heart attack and became unable to work. Warren explained her mother would rise early to provide for them.

Her mother's perseverance would become an inspiration to how Warren would approach life and politics. "You reach down deep and you take care of the people you love," stated Warren after telling her story.

Warren described how she found opportunities to achieve the life dreams she had. She said there was no way she would be able to complete her dreams without the opportunities.

Warren believes corporations are corrupting government. The senator strongly believes this has affected opportunity. "The path has become even rockier and steeper and even more so for people of color," stated Warren about today's opportunities.

The senator went into her plans to change the country. The first part of her change was a bill that she described as "the biggest anti-corruption bill since Watergate."

The first part of the bill was ending lobbying. The next part for Warren was to block the revolving door between Wall Street and government. The part that was met with the loudest applause was requiring people who run for federal office to share their tax returns.

Warren then talked about taking two cents from every dollar that millionaires have to be put to use for the good of American citizens. Warren then listed some of the uses for that money, like universal child care, free technical school, and canceling student loan debt for 95 percent of America.

Before turning the microphone to the audience, Warren stated her desire to get a constitutional amendment to protect the right to vote. Her statement was met with loud applause. "It's about opportunity for all," said Warren.

The first question from the audience was for Warren to explain her bill on education. Warren explained that she wanted more opportunity for kids, especially with the idea of free technical college. She also explained her desire to double Pell grants to give more opportunity to low income students to not burden them with debt. "No nation is built up when placing heavy student debt on kids," stated Warren.

An audience member asked about seeing the best in others. Warren praised the question and said having a democratic house and senate to start. "I'll do what I can do in the White House, but I need you to do your part in Iowa," said Warren.

Warren closed out with her approach to naysayers. She said she is not letting those people drag her down and that it is up to the people where America goes. Warren closed her speech saying, "I believe that if we dream big and in that we can win."