by Abby Koch--The first art show of the year is "Striped Sounds," an interactive installation, is up in Eppley Art Gallery. The show features found objects and mixed media pieces from adjunct art professor Shannon Sargent.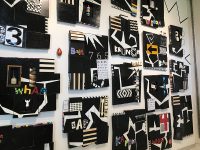 "Striped Sounds" is Sargent's first solo show at Morningside since his senior show when he was a student at Morningside. 
Along with teaching at his alma mater, Sargent is the exhibitions/collections coordinator at the Sioux City Art Center. He maintains the exhibitions at both the art center and at Morningside. Sargent also served six years in the U.S. Marine Corps, where he credits his disciplined approach to art.
"Striped Sounds" features Sargent's 15 years of installation work in one space. The walls are filled top to bottom with a range of objects. All of the objects are bold with eye-catching colors.
The installation was inspired by Sargent's art process of recycling items and art pieces, and having viewers question each object. He wanted viewers to see certain objects, like an old bicycle, and make a certain type of connection or interest in his installation.
"There is something recognizable for most of us, or there are things that are recognizable to some of us, like an older generation. Like, hey there's an object like a landline or telephone that now my kid doesn't understand what it is," explained Sargent.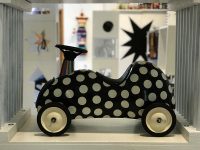 With the curiosity or connections that a viewer might have, Sargent hopes that viewers will stop to investigate. "I want them to question what is or isn't art. So I am hoping people are like, is this really art? And can this be art? Or should this be art? But also, I really look for an emotional response where it's not really grey," said Sargent.
Sargent explained what he learned from this show was to be careful of what he wished for and never take time for granted. He juggled with how he wanted to do his show but wanted to put his best foot forward. "You really have to love what you do because that made it really easy to do this installation," commented Sargent.
"Striped Sounds" will be up in Eppley Art Gallery until Friday, September 27. There will be a reception from 5 to 7 p.m. Wednesday, August 28, outside the gallery.