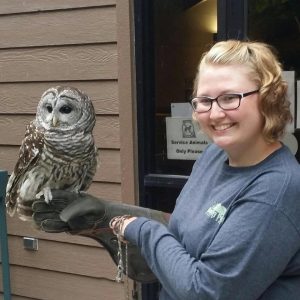 Katelyn Brinkerhoff is BV President today and US President tomorrow.
Katelyn Brinkerhoff, a senior at Buena Vista University (BVU), is a full-time student majoring in environmental science. Her goal after college is to become a Naturalist at a county conservation. There she would like to run a summer camp that involves educational programming and work with animals.
Her personality, as she describes, is helpful, funny, good listening, understanding, and blunt. She would also like to call herself a good friend but is not confident in what others will say.
"I'd like to define myself as a good friend, but we'll see other's might think differently." Katelyn shrugs.
Some would say she does not care what others think of her, but everyone has their own personal turmoil. Chase Harrison, her friend of two years, believes that she fits in well with his friend group and does not think of her as a selfish person.
"I was struck by how frank she was about everything, and I liked that-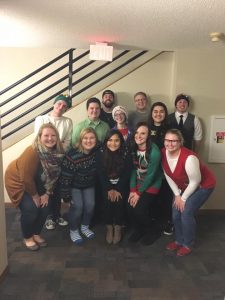 it fit in with my other friends really well, and it has continued to be that way," Chase says.
He also adds the word "relentless" to the list of describing Katelyn's personality.
"She never gives up on what she wants, and nothing or nobody can stand in the way of that. That's what defines Katelyn's more than anything else." Chase says.
Katelyn's approach to life, with being so involved on campus, is to think positive and to set goals. Being positive and setting goals helps her see the light at the end of the tunnel.
"That [keeping positive and setting goals] drives me to keep going and knowing that I'll have a nice life. I turn the negativity into a challenge and use that as a prove them wrong, kind of thing."
She may think positively, but the negativity of others motivates her. That inspires her goals and pushes her to do her best. She calls them the "Let me show you moments." These moments are where someone puts you down because they think you are incapable of doing something.
"This is what has driven me to do the things I'm doing at school right now. And to be the person that I am." She adds.
Chase Harrison agrees that she uses negativity to her advantage and by doing that he believes she lives fully. She never beats around the bush and is very clear on how she feels.
"She lives her life very fully- feeling everything and doing everything to its' very fullest. It's always very obvious how she feels because she makes that clear in her words and actions." Chase shares.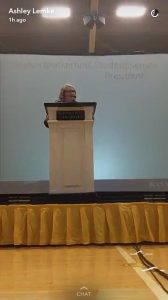 Katelyn is President of the Buena Vista University Student Senate (BVUSS). The position, as she describes as working side by side with faculty senate, being a part of the board of trustees of the university and working with the committees in there, chair as President of the entire Student Senate, also to be the voice and face of the BVU student body, present at events.
Currently, because of her position of Student Senate President, she is chairing a search and screen committee for a new President of the University.
Outside of Student Senate, she is a member of the Adventure Leadership Program Scholar (ALPS). It is an organization on BV's campus that plans trips to go off campus that are adventure based in nature, such as caving, camping, rock climbing, etc. ALPS is not a part of major, but the activities tie in well.
Between being President of Student Senate and a member of ALPS, she is even more involved with other things on campus such as outdoor clubs BV has to offer, hosting events for the Student Activities Board (SAB), volunteering at the campus greenhouse, and everything band and choir related.
Every weekend, Katelyn comes back to Sioux City, to be a Team Leader at Chick-Fil-A.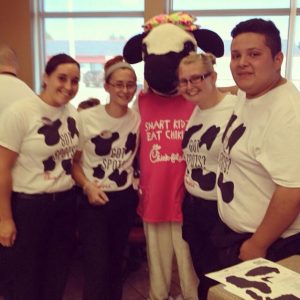 She is there mainly for a source of income. Katelyn has learned several leadership skills and has applied them to her life. While working at Chick-Fil-A, she has learned how to build relationships on a professional scale, how to handle conflicts, how to talk to people that might have problems with you, and how to work with a team of people of different personalities. These lessons have helped in her professional development and personal growth.
Emily Druyor, Team Leader and co-worker of Katelyn, has nothing bad to say about her either. They have worked together for three years, and Emily says her first impression of Katelyn is "She seems like a nice girl." Also, if Emily had the chance to be friends with Katelyn sooner, she would.
She calls Katelyn as a person with a face to trust and that no matter the situation, Katelyn is always positive.
"She has the prime qualities [of a Chick-Fil-A Leader]," Emily says. "She's a hard worker, trustworthy, motivated, and overall very positive."
Katelyn has done much growing over her college years. Although she is positive, she has her worries. She knows what she wants for the future, but she is afraid of the future and what's to come.
"It's cool not knowing what we are going to do, but at the same time it's terrifying." Katelyn shares.
She's afraid of not being able to achieve her goals in life such as being a Naturalist at a county conservation. Also just typical "grown-up" things like finding a job, settling down, and overall happiness.
Life, in general, is what keeps Katelyn up at night. She has a care for others and always puts them before herself. She wonders how she could help them and make the world a better place.
"Life in general. How is everything going to get figured out? What can I do to help change the world like those really big ideas? With things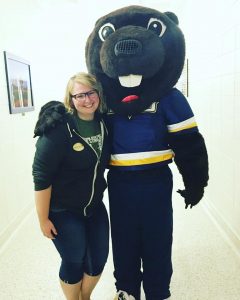 going on in everyone's life, how can I make their lives better and not have them go through things that I had to go through, how can I help them get out of those situations. Just things like that. How can I just be a better person? Those are some things that keep me up."
Katelyn a senior at BV has no care in the world for herself but for everyone else. She strives for excellence in everything she does, and it comes off on those around her. She takes all the negativity in her life and makes it her motivation. She's always positive and is someone you can always trust. She never lets anything get her down.
If there is anything you need to know about Katelyn it's, as Chase says, she's going to be President someday.
Is there something you think people should know about Katelyn?
"She's gonna be president someday. If I know anyone who will be POTUS, it's Katelyn Brinkerhoff. Brinkerhoff-Cena 2032."
Photo Credit: Facebook