There aren't a lot of things in the world that make me genuinely happy. Not saying that i'm an unhappy person, because i am. Its just this picture though, will always make me smile.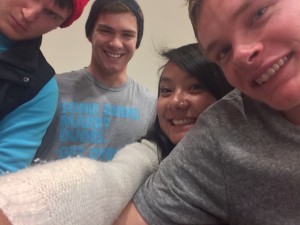 I love this picture and everything about it. I love the people in it and I love the way I feel about it. I've never felt so happy looking at a picture in my entire life. Never did I think I'd see myself there with them. These boys are the best thing that has ever happened to me and I don't know what I'd do without them.
Kyle's smile brightens my day and I'd do anything to keep that smile on his face. If only he knew that he was so loved and that it doesn't even matter if a girl doesn't like him. He's such a great dude and any girl would be lucky to have him be her dude. I love that kid and I would kill a bitch for him.
Spencer and his cheeky smile and the zero fucks he gives. Sure sometimes he pisses me off but I love him and how he helped me transition from high school to college. I'm a sophomore now and he has been there for me every step of the way. Helping me with boys and guiding me through the school life. There's just so much to him that I don't know but isn't that the fun part of trying to get to know a person? We all have our problems and own lives but no matter what spencer is there and judges or not, the dude is there and is the best boyfriend ever.
Then there's Tyler in the corner and it's perfect. I could never find the right words to string together to explain how grateful I am for Tyler. When I'm at my worst he puts me back to the top, when I drink too much he takes care of me, when I got kicked out of my house he took me in. I'm literally so grateful for him I just don't even know where'd I'd be without him or any of them.
We're not perfect, but we have something here and I'm in love with it all.